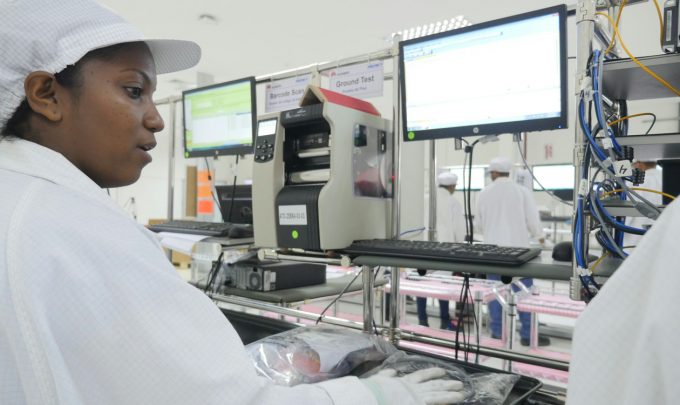 Panalpina has taken a deeper step into the hi-tech sector by offering to source and buy materials, components and products to sell on to its customers.  
It said: "On behalf of a known social media company, Panalpina buys diverse materials directly from suppliers – servers, USB devices, cables from Hong Kong, switches from the Netherlands. The inbound materials are processed, assembled, configured and tested, then shipped outbound across Europe and to worldwide destinations." 
Panalpina declined to comment on the finances required for this, or for how long it holds inventory, but Mike Wilson, global head of logistics and manufacturing, told The Loadstar: "We are buying from suppliers, adding value and selling to our customers. 
"Logistics Manufacturing Services (LMS) is Panalpina's response to a rapidly changing global manufacturing and supply chain landscape. Ultimately, it is about end-to-end product lifecycle management where we provide custom-made, innovative and environmentally friendly solutions for our customers that improve their bottom line and market share." 
It said customers benefited from "extended purchasing power and sourcing from a vast network of suppliers. They do not have to carry excess cost due to overstock, because a reliable partner is buying and managing inventory for them". 
Panalpina started LMS in 2013 in Brazil for a large telecoms company, managing final assembly as well as being responsible for the whole process, from planning to quality control. It then set up similar assembly operations in Panama and Dubai.  
"Remanufacturing, repairs and returns for technology customers also became an integral part of LMS," said Mr Wilson. "In April, we announced we extended our LMS offering to include the installation of hardware and software for mobile network antennae. This latest addition is inventory procurement and ownership."
Panalpina claims the model works particularly well in the hi-tech sector, which has short product life cycles, and helps with the "constant race to reduce lead times". 
It added that volumes were "ramping up, with Panalpina handling thousands of servers through its new facility in Prague". 
Mr Wilson added: "Buying components used for manufacturing and managing inventory are one end of a product's lifespan. At the other end is remanufacturing, repairs and returns. Panalpina aims to become an indispensable partner for its customers by managing not just supply chains, but product life cycles in an increasingly circular economy. That's where we can truly unlock value." 
Panalpina claims to be the "the world's only logistics service provider to offer outsourced inventory management to customers".
However, as reported in The Loadstar last month, Imperial Logistics also owns and distributes inventory – but instead of selling it to its customers, it buys from its pharma and FMCG customers and then distributes and sells their products.