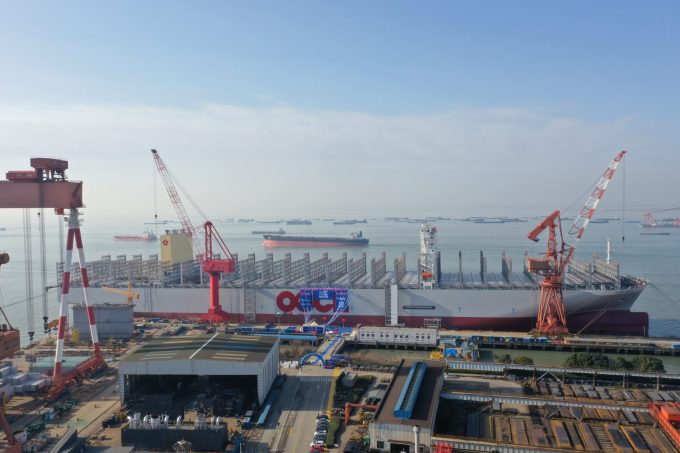 Orient Overseas (International) (OOIL) said the load factors on its OOCL container arm's network "show clear signs of improvement" and freight rates "may have started to stabilise".
Nevertheless, OOIL says it does not expect liner earnings to recover until the second half of the year and, in the interim, it suggests carriers may have to "recalibrate" their networks to mitigate the impact of reduced demand.
The Cosco Shipping subsidiary reported an 18% increase in revenue for 2022, compared with the previous year, to $19.8bn, of which $18.7bn was contributed by the liner business, up 19% on the year before.
OOCL carried 6% fewer containers last year, 7.1m teu, but its average rate climbed to $2,620 per teu from $2,067 in 2021. However, in the fourth quarter, the average rate tumbled to just $1,822 per teu, as demand collapsed and carriers were obliged to discount.
OOIL's net profit from its liner and logistics businesses reached a new record, of $9.97bn, up 35% on last year's record earnings.
In a nod to its strategy of using its liner business as a platform for growing its logistics business, OOIL said the cooperation would continue to be "a key driver in our plans to develop more and more end-to-end business with our customers".
The company said the huge profit and cash flow had put it in "a very strong position" and added: "Moreover, they enhance our already robust balance sheet, which is strong enough to enable us to both withstand the challenges of cyclical markets and allow us to provide attractive returns to shareholders,"
It said its synergies within the Cosco Shipping group "continued to drive significant benefits, in terms of efficiency, cost savings and the ability to serve our customers with a more sizeable global reach", however, it added that the group remained committed "to its very successful dual brand strategy".
OOCL took delivery of the 24,188 teu OOCL Spain last week, which was just pipped to the coveted 'largest containership' title by the delivery the week before of the 24,346 teu MSC Irina.
The ULCV is the first of a series of 12 24,000+ teu ships ordered by the group in 2020, and it also has 17 smaller ships, including seven dual-fuel methanol vessels, under construction at Chinese yards.
Cosco Shipping Group operates a fleet of 464 vessels, with a capacity of 2.9m teu, ranking it third in the carrier league table, behind CMA CGM, and has a total order book of 45 ships, with a capacity of 864,000 teu.
OOIL said it was certain "that there will be challenges ahead" and that the business outlook was "mixed". It did not "foresee any material change in the first half" and it would be in the second six months "at the earliest" before it expected an improvement in trading.