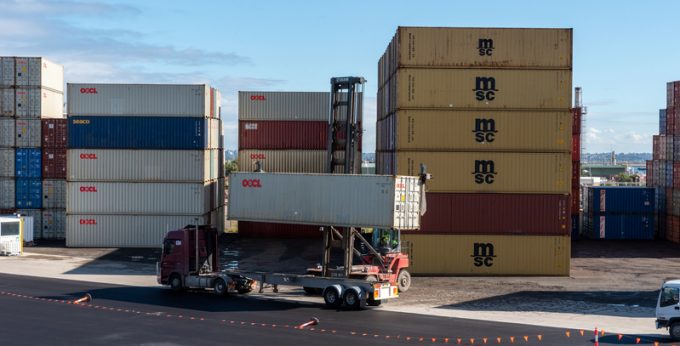 Australia's Omicron wave has skyrocketed staff shortages in container logistics, putting the sector under "enormous strain".
This week, local media reported bare supermarket shelves across the country, due to "up to half" of all truck drivers being absent from work, thanks to either a positive test result or isolation rules.
Industry sources say the country's testing rules, combined with a lack of test kits for transport workers, is at the root of the disruption to supply chains.
According to Michael Kaine, national secretary of the Transport Workers Union, drivers are "delivering rapid tests to be sold on the shelves of supermarkets and pharmacies — but they, like most Australians, can't access them themselves".
On Wednesday, the government scrapped its seven-day rolling test rule for truck drivers, in a bid to alleviate the capacity shortage.
However, Neil Chambers, director of the Container Transport Alliance of Australia (CTAA), told The Loadstar the rule applied to truck drivers crossing state borders, "not to the vast majority of the freight that's moved in urban or intrastate settings".
And he said the highly infectious Omicron variant had "changed the game" for Australia's container logistics chain, placing it under "enormous strain, with no part unaffected".
Mr Chambers explained: "Container transport operators across Australia have reported to CTAA that they are experiencing between a 5-20% reduction in available staff, including heavy vehicle drivers, warehouse staff, forklift drivers, container unpack crews and administrators, due to Covid infections and isolation requirements. In extreme cases, this rises close to 50% of available labour.
"Compounding this is staff shortages at customer premises, international container stevedore terminals and empty container parks across the country, significantly delaying the movement of containers through the supply chain."
In an update yesterday, DP World said it was "experiencing some scheduling delays" due to the impact of Covid on its workforce.
It added: "Approximately 10% of our workforce are impacted through either having contracted Covid-19 or isolating at home with a positive case in their household. These numbers may increase as Australia works through the current wave."
Mr Chambers said vessel berthing delays were still "of significant concern" across all the country's ports and terminals, with Sydney and Melbourne suffering delays of two-to-nine days.
And, he said, the delays were adding pressure on terminal congestion and competition among transport operators to secure vehicle booking slots before import containers incurred storage fees.
"Transport operators are trying to work with container terminals to avoid import container storage charges, but, this is proving to be extremely difficult. It was supercharged over the Christmas and new year period with shorter working weeks, staff availability and operating hours."
Furthermore, shipping lines pushing forwarders towards short-term rates has also had an effect on landside container logistics, Mr Chambers added.
"Spot rates attract stricter import container detention conditions, unless the cargo interests can negotiate a different outcome – not easy in the current global shipping climate."