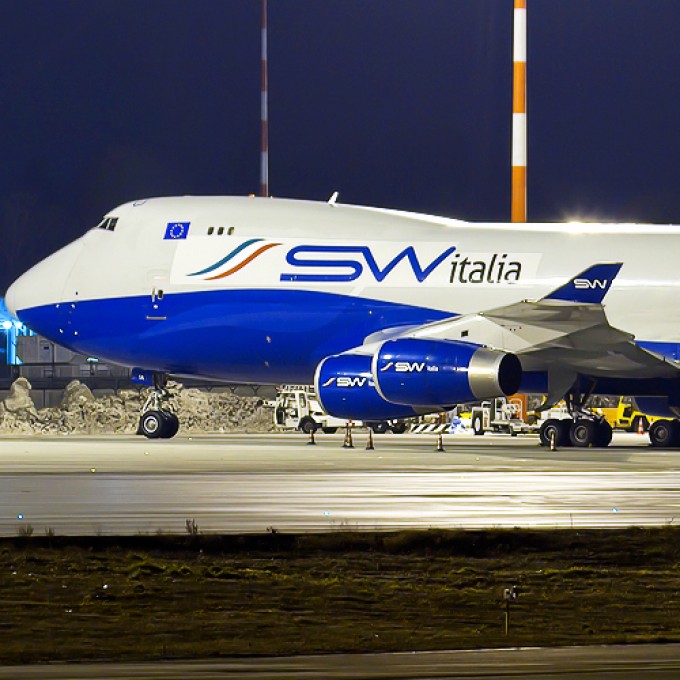 It may sound unlikely, but it looks as if a cargo carrier may step in to save a passenger airline. 
Italian media are reporting that SW Italia, connected to – but not owned by – Azeri freighter operator SilkWay Airlines, is interested in investing in Alitalia. 
As a non-EU company, Azerbaijan's SilkWay would be unable to hold a majority share in an EU airline, but Fortune Italy reports that SilkWayUK partner Cargo Invest would look to hold a 52% stake. However, SW Italia is said to be an Italian company registered in Italy, with majority shareholder, Aviation Servicing Company Limited, a UK cargo handling company.
However, UK companies – when the UK leaves the EU –  will be ineligible for EU airline majority ownership, unless the rules change. 
Cargo Invest has the same shareholder, Ignazio Corachi, and address as SilkWay UK. In the latest financial statement from Cargo Invest, for the year ending July 31 2018, it noted that the company owed SW Italia €2.68m ($3m). 
The deadline for investment in Alitalia has been missed several times while the Italian government tried to find investors. State-owned railway group Ferrovie dello Stato has been leading an effort to set up a consortium of investors to buy the carrier, and has attracted the interest of Delta Airlines. But it still needs a partner willing to invest more than €300m, and has been given until July 15 to find one. 
Many companies have expressed interest, reportedly including Lazio football club chairman Claudio Lotito, but the government is keen for the carrier to go to a transport or infrastructure company. 
There has been much speculation that infrastructure company Atlantia, which is controlled by the Benetton group, may join the consortium to ease its relationship with the government following last year's collapse of a bridge it managed. However, the industry minister said the troubled company could not be involved with Alitalia. 
Malpensa-based SW Italia has a turnover of some €20m and operates one 747 freighter on routes including Korea, China, Hong Kong and the US. But whether the Italians would want an Azeri shareholder in its national carrier is as yet unknown. 
SilkWay has yet to respond to questions from The Loadstar.