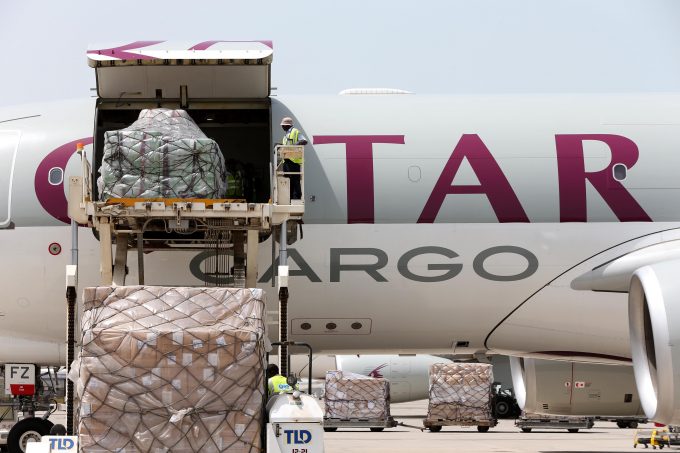 Qatar Airways is a major investor and board member of Freightos, owner of air cargo booking platform WebCargo, according to company filings uncovered by The Loadstar.
But Freightos has insisted there are no conflicts of interest, nor potential concerns for its 350+ airline partners which participate in its rate search and booking platform, used by forwarders.
However, the lack of transparency has led observers to question why some shareholder names have been kept in the shadows.
Under the name Alshaffafia Trading, Qatar Airways bought some 28% of its series C preferred shares, some 900,000, worth $19.7m, at the start of 2021, which gives Alshaffafia a seat on Freightos' board, taken by Guillaume Halleux, head of Qatar Airways Cargo, in March last year.
In June last year, Qatar with much fanfare announced it was rolling out WebCargo across Europe, but there was no mention of its investment or board seat.
FedEx, meanwhile, via investment vehicle FCJI, acquired just under half the number of shares Qatar bought, for some $9.3m, IAG Cargo (25% owned by Qatar Airways) spent just shy of $1m on some 45,000 series C preferred shares, while the bulk of these – 1.35m, worth $29.5m – are held by Asian Gateway, a subsidiary of Singapore Exchange.
Qatar's reach appears to have extended beyond Doha. IAG, Latam (10% owned by Qatar) and Qatar Airways – under its own name this time – also acquired 27,000 ordinary shares each on the same day, at a cost of some $105,190 per airline, which gives the carriers a 1.3% share each of the ordinary shares. Qatar's total shareholding in Freightos is less than 10%.
And more airline investors are set to come, said Zvi Schreiber, founder and CEO of Freightos.
"One or two more airlines are going through the legal process, and then we were going to announce it," he told The Loadstar.
However, it seems unlikely any other airline will have such a strong position as Qatar Airways. The shareholding agreement states that "for so long as Alshaffafia remains a qualified investor … there shall be no sale or issuance of any preferred shares to any airline, freight forwarder (courier/ express) or integrator, other than FCJI and its affiliates, which will bring that airline, freight forwarder or integrator to a total ownership of more than 8% … or which will entitle them to appoint a director for the company, except with Alshaffafia's prior written consent, (which may be withheld at Alshaffafia's absolute discretion)".
FedEx does not have a seat on the board, but retains a veto on "any freight forwarder or integrator" buying series C preferred shares; Singapore Exchange has a similar clause.
The shareholding document also states that "the company will hold a call on strategic matters whenever requested to do so, up to quarterly, with each of FCJI, Asian Gateway and Alshaffafia".
Dr Schreiber, however, was at pains to point out that the Qatar Airways board member was not privy to any confidential information, adding: "A lawyer is present at every board meeting and no data is shared. We never repeat specific numbers."
And he argued that, in fact, airline shareholders were "the opposite of a conflict of interests". he explained: "[Guillaume Halleux] and the airlines bring us ideas for new products, which we can then roll out  with other airlines."
And, despite the fact that Freightos, although naming other investors, has never mentioned its airline partners, Dr Schreiber said most airlines using its platform had been informed.
"Many airlines know already, we have discussed it and we have invited them to invest. No one has expressed any concerns, and we have the correct screening in place. Airlines have asked, and we have checked they are comfortable with it. We have been very careful about contracts and NDAs."
Two WebCargo users contacted by The Loadstar agreed they were unconcerned, so long as the product was good and there was no evidence of bias.
Dr Schreiber has a strong track record of raising money from investment companies – so why risk the possibility of a conflict of interests by asking airlines?
"We are always happy to have some investors without industry knowledge, but there is a benefit to the network from having investors with knowledge. Some airlines decided not to invest and wanted to know if they will have the same benefits on the site, which they do.
"Airlines have become a central part of our business. The investment idea came from them, to some extent.
"It has taken a lot of time, as talks started before covid, but then the industry had financial issues. As the industry righted itself, they came back."
He said Qatar's holding under the name Alshaffafia was an "internal, investment reason".
Freightos also has sea freight interests – and the lines are conspicuously rich at the moment.
"The process of connecting to shipping line APIs is only really starting this year, there is a two-to-three year lag behind airlines. As those integrations get under way we will be open to investment discussions, but again only if the ocean liners want it. We're happy to work with carriers with or without investment, as they prefer."
Next: Comment – do shareholdings matter?