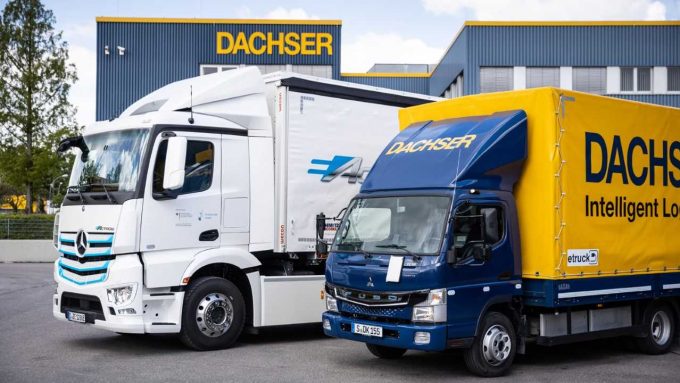 Logistics operators are making further pushes into electrification, with Dachser announcing tests of newly acquired electric trucks and DHL experimenting with hydrogen fuels.
DHL and subsidiary StreetScooter's planned electric delivery vehicle, the H2 Panel Van, has received strong support from Germany's transport minister, Andreas Scheuer.
"Openness to new technologies is key to our overall strategy, which is why we're supporting the use of this battery electric vehicle with additional fuel cell capability," said Mr Scheuer.
"If we want to promote alternative drive systems for climate-friendly delivery operations, we need to make sure these vehicles are priced competitively and capable of good range."
The 4.25 tonne H2 Panel Van will become the first electric vehicle with an added fuel cell to provide additional power and a range of up to 500km.
DHL Express has ordered 100 of the fuel cell vehicles to be delivered between 2020 and 2021. Chief executive of DHL Express Germany Markus Reckling said: "With the H2 Panel Van, DHL Express becomes the first express provider to use a larger number of electric vehicles with fuel cells for last-mile logistics.
"This underscores our aspiration to be not only the fastest and most reliable provider on the market, but also the most climate-friendly."
Dachser announced yesterday it had taken delivery of an all-electric 18-tonne Mercedes-Benz eActros truck, which will be tested by the operator's drivers over the coming months.
With a payload of four to five tonnes, the truck offers space for 18 pallets and will be used alongside Dachser's Fuso eCarnter trucks.
Corporate director for research & development at Dachser Stefan Hohm said: "We're not looking for a one-size-fits-all approach. Instead, we want to come up with a range of solutions, each focused on optimising deliveries, routes and times."
Alongside the 7.5 tonne Fuso truck, Dachser operates electrically assisted cargo bikes, which are used for the last mile, and with the addition of the eActros, Dachser says its all-electric vehicle mix is complete.