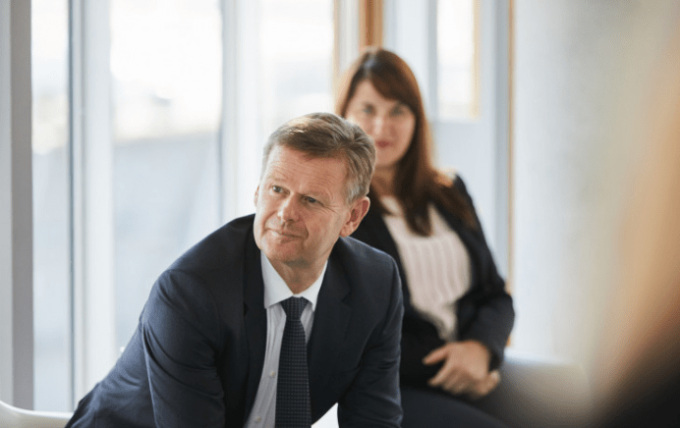 Lufthansa Cargo's use of e-air waybills (eAWBs) has surged since introducing a charge for paper AWBs last April.
Just shy of 74% of shipments are now flying on an eAWB – a remarkable shift for a carrier that in January 2017 had less than 40% eAWB penetration. 
Chief executive Peter Gerber said the carrier now ranked second only to Cathay Pacific in terms of the wider air freight community's attempts to introduce eAWBs. 
"When we introduced the fee last year, we were just below 60% in terms of uptake, but the fee has seen more customers switch," he continued. 
"And we are now well ahead of the market average, which hovers around the 61.2% mark, meaning it is just our partner, Cathay, ahead of us." 
The target for the year is 80%.
"The fee is a big success," Dorothea von Boxberg, chief commercial officer, told The Loadstar at last week's WCS event in Singapore. "We didn't want to earn a fee, we wanted to change behaviour.
"Hopefully, the earnings from the fee will go down and down."
She added that some forwarders had been pleased, as it gave them ammunition to request investment in digitisation from their boards. 
Moving to eAWBs forms part of a wider transformation for the German flag-carrier, which suffered what it described as a "crisis year" in 2016, making a loss before rebounding. Recent financials show it has returned to profit, 2018's profitability slightly up on 2017. 
"But," added Mr Gerber, "it must be noted that the very big boom in air freight over the last two years came to an end in December. 
"That month marked the first in two and a half years in which we saw no sort of increase and very much saw a slowdown in volumes." 
Under Lufthansa's transformation programme, work is shortly due to start on renovating its cargo centre at Frankfurt Airport. At an estimated cost of €400m, the upgrades are set to be complete by 2024, but Mr Gerber said the company had a strategy that considered any unexpected market shocks. 
"The plan has been drawn up in such a way that will allow us to develop it one segment at a time, which means if any financial emergency arises, we can put it on hold without major losses," he explained. 
"We expect final planning to be complete by the end of this year, with construction to start imminently after that." 
In particular, Mr Gerber pointed to the US political slowdown, the China-US trade war and the outcome of the Brexit negotiations as potential challenges for the global economy. 
However, chief financial officer Martin Schmitt said that, while Brexit would be "a disaster", Lufthansa Cargo was fairly well insulated from it. 
"Yes, Brexit will be a disaster in and of itself, but more so for the global economy than for Lufthansa Cargo individually," he added. "From our perspective, this issue is not that big a problem for our business, because of who we operate for and where to." 
When asked if this business included Amazon, Mr Schmitt neither confirmed or denied any business with the e-commerce giant. 
Instead he simply stated that, as an airline, Lufthansa Cargo primarily dealt with forwarders rather than end customers, while Mr Gerber added that e-commerce "fuelled" air freight growth. 
"Air freight is essential for an accelerating world in which time-to-market is being shortened and you need faster transport," added Mr Gerber. 
"As it stands, the only transport that can achieve the needs of shippers is air freight, especially as lots of people from the poorest parts of the world are now getting money that allows them to consume. 
"And when people consume, they consume on a global scale, with products sourcing parts from all over, meaning e-commerce fuels air freight growth." 
Mr Gerber added that in the short term, though, the end of 2018 had thrown up a few further issues, including notable labour shortages in Germany and the US. 
With this and ongoing trade tensions in mind, both he and Mr Schmitt said they were expecting the market to remain softer. 
"We have good years, we have normal years and then we have the crisis years; and we have now just finished the good years," said Mr Gerber. 
"But all in all, the market – if you manage it well – remains pretty steady for the air freight sector – it is usually pretty steady."