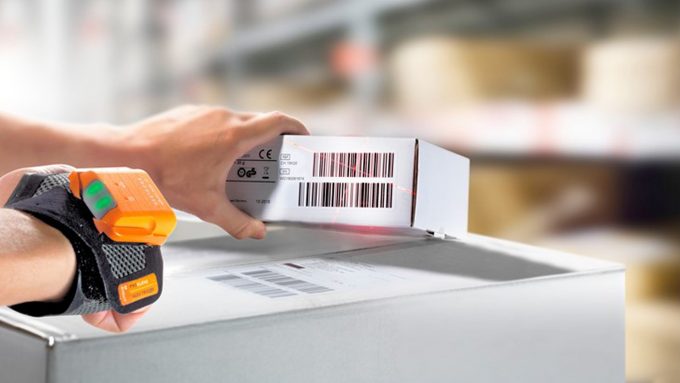 Battling low margins and supply chain disruptions, the warehouse industry has long suffered with a "transient" workforce, which are either too bored, too "seasonal", or too low-paid to make training worthwhile.
In response, companies are seeking to plug the gap with technology such as including wearable devices.
Chief product officer of ProGlove, Ilhan Kolko, described his company's wearable device, a scanner the size of a matchbox, as an enabler of "micro-efficiencies".
"When we put it on the back of the hand of the worker, the hands are free, the eyes are free," he said. "You don't have to look for it, place it on the desk… it saves 4-6 seconds on every scan that you do."
Yodel Operations IT Portfolio Director Alan Parsons said the device provided better results downstream of the warehouse – the most important indicator of good performance.
"We have quite a transient workforce, as is the industry norm," he said. "A lot of temp workers, agency workers.
"So, we run the majority of our last mile network on third party couriers and drivers."
Mr Parsons explained that one of the biggest strengths of the device was its intuitiveness, cutting down on training.
"Using the technology from ProGlove, we've been able to take cost out and increase productivity," said Mr Parsons. "We've had the benefit of both visibility and productivity, not from investing in the same areas, but actually downstream in the supply chain."
A survey report on the industry by ProGlove, which in August appointed former DHL Express CEO Ken Allen as its chairman, found that 71% of warehouse workers were unsatisfied with their pay, and a further 51% were requesting further training.
"Workers on the floor and in management positions… more than half (51%)… view training as a route to higher satisfaction. This clearly highlights the need for technology to be easy to master, and simple to operate. Otherwise, workers will find the technology to be more of a hinderance than a help," Proglove's report determined.
Consistent and usable data can provide the foundation of an efficient operation, and wearables don't just speed up processes for the workers, but also optimise warehouse layouts, explained Mr Kolko: "Data points – the time it takes to scan, the time between scans, travel time, number of steps, the path, are all very valuable data points which can be put to use to improve the physical [warehouse] layout itself."
But the data is only of value if it is reliable enough to be properly analysed and acted upon, while technology implementation thus far has not been problem-free.
Barcode scanning, or mis-scanning, was held to be one of the biggest problems for generating these inaccuracies in ProGlove's report. "Improving [or] replacing traditional barcode scanning is among the top answers to curing errors," ProGlove said. "The ultimate remedy to picking errors is providing reliable information for warehouse workers."
According to ProGlove, there were, on average, 32 picking errors per workstation per week. "So downstream in the supply chain, we need to make sure we have the accuracy, the visibility of the data that we gather, so we can understand it, and share with both consumer and client at all stages of the journey," said Mr. Parsons.