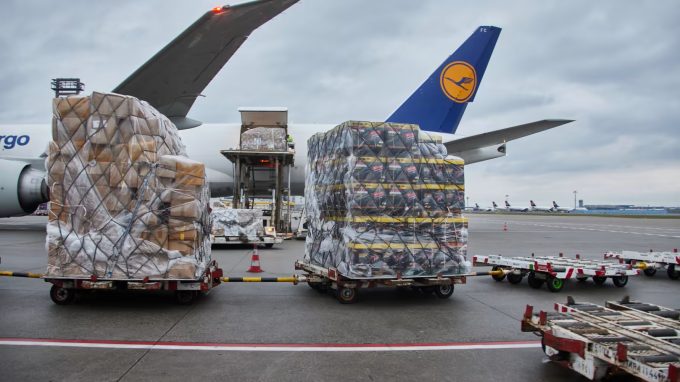 Sun Express, the joint-venture between Turkish Airlines and Lufthansa, has formed an air bridge from Germany to the earthquake-stricken region to bring in supplies.
The carrier, also working with DPD, Fiege, time:matters and CH Customs Broker, is bringing in more than 1,000 tons of relief supplies.
The first two flights, on Lufthansa Cargo 777Fs, are due to arrive today, loaded with blankets, hygiene goods and food.
From Monday, Sun Express cargo-only flights will arrive every Monday and Tuesday, following approval for an exemption to use passenger aircraft for cargo.
The approval follows TIACA's call for authorities and stakeholders to facilitate humanitarian flights. TIACA thanked the US Office of Foreign Assets Control, which issued Syria General Licence (GL) 23, authorising, for 180 days, all transactions related to earthquake relief that would be otherwise prohibited by Syrian sanctions.
"This will facilitate aid to flow much quicker to the affected area," said the organisation. But it added: "With this obstacle removed, TIACA calls upon the insurance markets to relax some of the stringent procedures and financial penalties in place when flying to Syria, a sanctioned state considered as a war zone.
"Flights need to get as close as possible to where the aid is needed, therefore flying to Damascus or Aleppo is vital to support Syrian relief efforts. But with current Hull war-risk premiums in place, the financial impact is often too much for humanitarian agencies to bear.
"We urge the insurance markets to follow the lead of the US Treasury and remove the penalty for a limited time to support relief efforts."
For those wishing to help, Lufthansa Cargo said urgently needed aid materials could be donated to any of the 7,500 DPD stores in Germany from Monday.
It said: "Aid packages up to a maximum of 20kg with the following contents can be handed in: unused or good-as-new winter clothing for babies, children, men and women; sleeping bags; blankets; scarves; nappies; baby bottles; gloves; dry food; hygiene products (but no liquids); and sanitaryware.
A parcel slip must be printed out in advance, which is free for donations. Further information can be found on the initiative's website at www.wir-helfen-gemeinsam.de.
The carrier added that companies could also support the airlift as sponsors, or with donations. Interested companies are asked to contact the initiative directly.
Max Kownatzki, CEO of SunExpress Airlines, said: "I would like to express my deepest gratitude to all partners. Thanks to their flexibility and willingness to help, it was possible to set up this airlift and put it into action within a few days.
"Now, together, we can do what is most important to all of us in the coming weeks – provide targeted help on the ground to at least somewhat alleviate the suffering of the people affected by the tragedy. The airlift is an important extension of our commitment to rescue and evacuation flights and free transport of cargo, which we have been offering since 6 February."
Distribution of relief supplies will be arranged by DSV and Celebi, with the help of local disaster management authority AFAD.