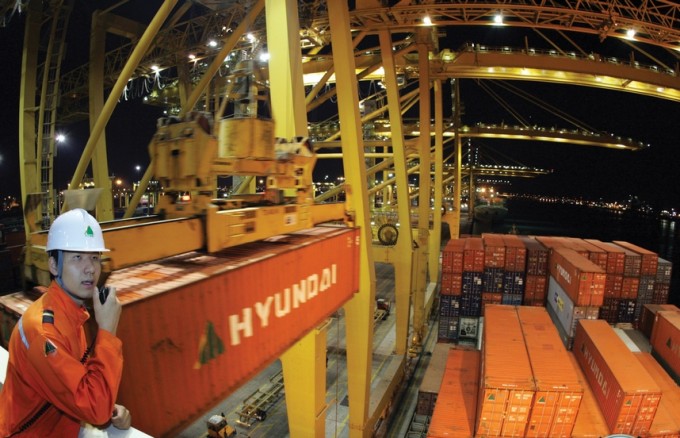 Hyundai Merchant Marine (HMM) could be put into receivership as early as tomorrow by its creditors if it fails to convince owners of its chartered ships to cut daily hire rates by up to 30%.
HMM invited the owners of the 36 container and 50 bulk chartered vessels for final negotiations in Seoul this week, but admitted that its attempts to gain significant rate discounts have "so far been unsuccessful".
South Korea's second-biggest shipping line said it needed to achieve reductions to "normalise its business" and convince its main creditor, state-owned Korea Development Bank (KDB), to execute a debt-for-equity swap.
HMM recorded a $525m loss in 2015 and a $240m loss for the first three months of this year.
Greek shipowner Danaos Corporation, which has 13 ships on long-term charter to HMM, attended the meetings, as did two other containership owners, with a fourth on a video conference link.
Significantly, London-based Zodiac Maritime Agencies did not attend. It is in the process of delivering six 10,000 teu newbuild vessels to HMM, chartered on a 12-year fixed-rate basis, following three sister ships, already delivered and deployed on the carrier's transpacific services.
Zodiac has chartered ships to HMM since 2001 and is understood to be incensed that the carrier is trying to get hire rates reduced even as the ships are being delivered. According to one broker source The Loadstar spoke to yesterday, as well as declining the Seoul meeting, Zodiac has refused to reduce the hire rates.
Apparently, HMM's offer of a debt-to-equity swap to shipowners for a percentage of the charter hire has not encouraged a change of mind at Zodiac – not least because of the terms of Zodiac's ship mortgages and the zero value of the equity on the balance sheet, said the source.
So what will happen next?
If no significant progress is made before tomorrow's creditors' meeting, and KDB carries out its threat to place HMM in court receivership, it is likely that the creditors, including shipowners, will only receive a percentage of what they are owed.
In terms of charter hire payments, any breach – including reduced payment – allows the shipowner to terminate the charter and take back the ship.
This would invariably result in ships and cargo being arrested; which would mean a very worrying time for HMM's customers.
Meanwhile, compatriot Hanjin Shipping, which is also aiming to restructure – and has also been told by KDB it must cut its charter costs – will be watching tomorrow's developments closely, given that its initial approach to shipowners and terminals for cost reductions has been stonewalled, according to several informed sources.