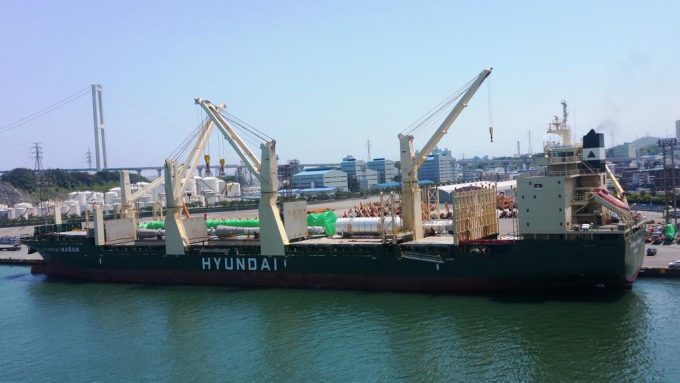 Korean flagship liner operator HMM has extended its "extra loader" services to Australia, starting today.
The multipurpose HMM Ulsan, which has 1,888 teu container capacity, will depart Busan today and arrive in Melbourne on 22 September and Sydney six days later.
HMM, which began ad hoc sailings in August last year on transpacific routes, said there would be nine such voyages this month, the most in such a period.
The voyages cater for small- and medium-sized enterprises which have difficulty securing shipping slots, due to the unprecedented shortage of vessels and equipment that have pushed freight rates to historic highs.
Yesterday, the 5,023 teu HMM Platinum departed Busan for the US west coast, scheduled to arrive in Tacoma next Saturday and Los Angeles on 22 September.
While the vessels had, until now, departed from Busan, Korea's busiest container port, last Friday saw the 5,023 teu HMM Paramount set out from the country's second-busiest, Gwangyang, for Los Angeles.
HMM said it would "strive to resolve SMEs' logistics difficulties" by strengthening cooperation with the country's Small and Medium Business Corporation, the Korea Agro-Fisheries & Food Trade Corporation and the Korea International Trade Association.
Including the nine this month, since last August, HMM has launched 49 ad hoc sailings: 25 trips to the US west coast; seven to the east coast; five to Russia; four to Europe; one to Vietnam; and now one to Australia.