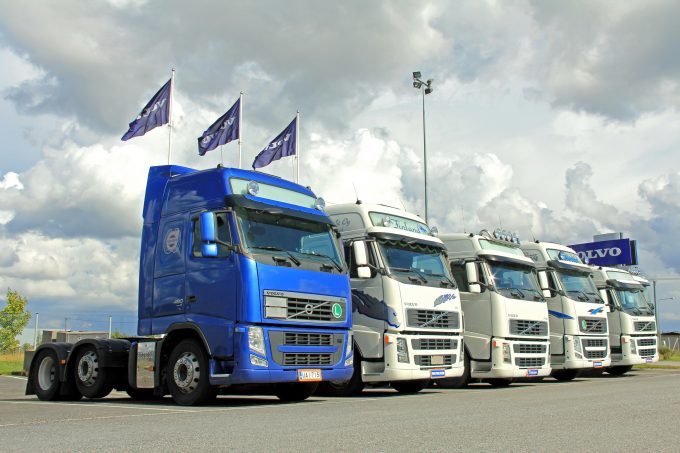 The UK's Road Haulage Association (RHA) has applied to represent thousands of hauliers who could be due millions of pounds in compensation from five major truck manufacturers who were found guilty this year of operating a pricing cartel.
The EC's competition watchdog issued a total fine of €2.93bn to MAN, Volvo Group (comprising Volvo Trucks and Renault Trucks), Mercedes-Benz parent company Daimler, Iveco and Daf after finding them guilty of "co-ordinated truck pricing and colluded on passing on the costs of compliance with emissions rules in the late 1990s and early 2000s".
MAN received immunity from the fine as the cartel's whistleblower.
Yesterday, the RHA formally submitted its application to the UK's Competition Appeal Tribunal (CAT) to be the haulage industry's "representative body" as truckers try to recoup some of the large amount the sector overpaid.
However, RHA chief executive Richard Burnett warned RHA members that it would be a protracted process, and called on members to register their interest if they believe they have a claim.
"We consider ourselves duty-bound to acknowledge and act upon our members' wishes. We have taken legal counsel and have thoroughly explored the approach that we need to take. If the CAT accepts our application, detailed disclosure of evidence will be released and at that stage the case will be developed more fully.
"This will be a long drawn-out process and it is important to stress that hauliers will not get an immediate pay-out; indeed there is no guarantee of any pay-out at all. However it would appear that based on the high level of evidence already received that the prospects for compensation look encouraging.
"The process of obtaining representative status could take up to a year and the whole process up to a determination or settlement could well exceed a further two years."
RHA members with a possible claim can register their interest at www.rhatruckcartelclaim.co.uk .
The Loadstar understands that other areas of the supply chain industry are also considering class actions against the manufacturers, given that the hiked vehicle costs would inevitably have led to higher prices for truckers' customers – such as shipping lines, freight forwarders and shippers – as haulage firms sought to recoup vehicle investment costs.
EC competition chief Magaret Vestager said the cartel had operated for 14 years, between 1997 and 2011, when the EC's investigation began.
"First, the truck producers discussed their envisaged "gross list" price increases for medium and heavy trucks. Simply speaking, these gross list prices are the basis for pricing in the trucks industry. What the truck producers did was to coordinate with each other on increasing this gross list price of trucks.
"Second, the truck producers also discussed among themselves on how to respond to the increasingly strict European emissions standards. The truck producers coordinated on the pricing for the new technologies that were needed to meet stricter standards and thus on the transfer to customers of the costs of the emission technologies required to comply with the emissions standards. The truck producers also coordinated on when to actually introduce new technologies. Delaying the introduction of environmentally friendly technology in agreement with competitors is not my idea of competition!"