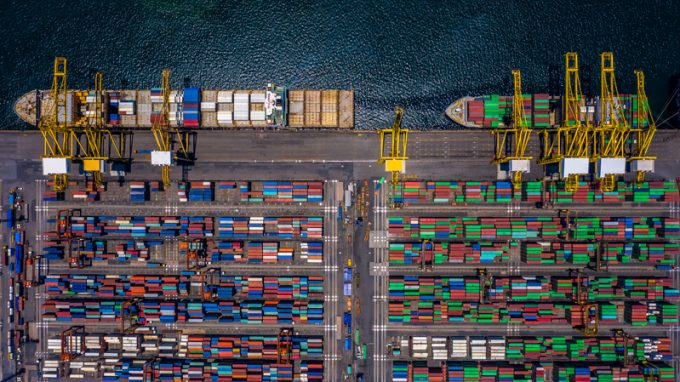 Analysts are marking down growth forecasts for the container sector following a disappointing first half-year and increasing concern about a "damp squib" peak season.
Drewry's recent Container Forecaster highlights a "series of existential fears" beginning to appear, "which could dent demand for shipping in the future".
The new threats include the regionalisation of manufacturing supply chains and a "growing momentum behind a low-carbon, environment-first campaign that has the potential to fundamentally change global consumption habits", said the shipping consultant.
Last month, Bimco chief economist Peter Sand predicted a gloomy outlook for the liner industry, citing weak demand and a return to negative margins for ocean carriers.
Container spot rates on the major trades failed to gain much traction in the weeks leading up to the peak season which traditionally starts this month and extends into September and October.
As a result, Drewry has slashed its 2019 container throughput growth forecast from 3.9% to 3%.
This compares with a 4.7% increase in demand last year and 6.5% in 2017.
"We remain confident that world trade will rebound in 2020, but much will depend on developments outside carriers' control," said Simon Heaney, senior manager, container research, at Drewry and editor of Container Forecaster.
Mr Heaney alluded to escalating geo-political tensions in several regions, protectionist trade wars and uncertainty surrounding the IMO's 0.5% sulphur cap on fuel for shipping, coming into force on 1 January next year.
He added: "Carriers can be forgiven for not having all the answers in such times. One suspects that even Nostradamus would throw his hands up in despair!"
Mr Heaney said there would "undoubtedly be some errors along the way", and cautioned that the risk of supply issues had been heightened from either "too many cancelled sailings or misplaced capacity transfers between trades".
He cited the transpacific market as an example of the differing strategies of ocean carriers on the expected strength of the peak season, with some lines that expect strong demand injecting extra loaders, while others are blanking sailings to underpin spot rates and protect vessel utilisation levels.
And there appears little consensus on demand growth expectations from the major liners, with some, such as Hapag-Lloyd, remaining relatively bullish while leading carrier Maersk's chief executive has given a downbeat 1-3% annual growth forecast for its liner business.
Meanwhile, on the supply side, Mr Heaney told The Loadstar Drewry had decided to peg capacity growth for the year at 3.3%, as deliveries and scrapping remained consistent with expectations.
He told The Loadstar he "did not expect a supply hike" following the news that HMM would join THE Alliance as a full member on 1 April next year.
"If anything, it will keep a lid on things, as the other members won't have such a need to plug the group's ship deficit with orders of their own," he added.