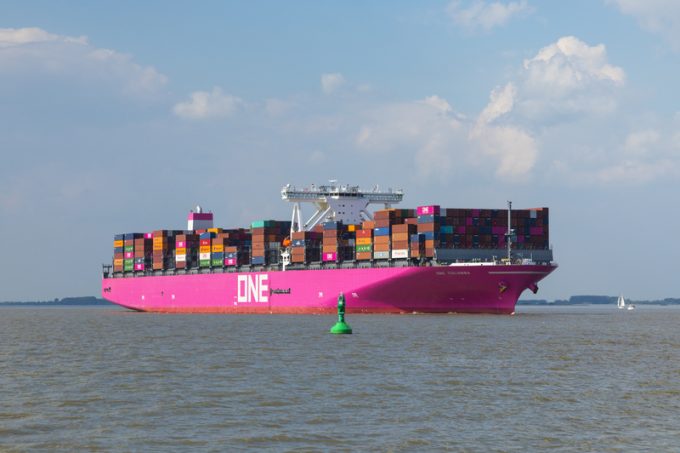 Japanese carrier ONE's vessels from Asia to Europe sailed full last month, as bookings delayed by the extended Chinese New Year holiday were finally shipped out.
However, due to a collapse in demand via Covid-19 lockdown restrictions, ONE will be challenged to reach anywhere near maximum load factors in April and May, despite the high number of blanked sailings already announced.
At 128,000 teu, ONE's March Asia-Europe headhaul liftings were some 6% below last year, when vessel utilisation hit 82%, suggesting there was tighter capacity management by THE Alliance members.
On the transpacific tradelane, ONE's vessel utilisation was recorded at 89%, with liftings of 186,000 teu, higher than the 81% achieved on the headhaul route in the same month the previous year when 193,000 teu was carried.
According to eeSea data, THE Alliance members appear to have taken a more judicious strategy with Asia-Europe blankings in March, cancelling 18% or six of its 46 advertised sailings, compared to voiding 10% of its 66 transpacific voyages.
Commenting on ONE's operational numbers container shipping analyst Lars Jensen noted that the figures were measured at the time of loading, thus cargo booked at the end of March would not be included.
"The pandemic impact only gathered pace in late March," said Mr Jensen. "The early part of March was the short period where China was getting back up, and the pandemic impact had not yet manifested itself strongly in the rest of the world."
He added that notwithstanding the "positive" utilisation levels for ONE in March they should not be taken as an indicator as they only reflected the "short window" between the easing of the virus lockdowns in China and the global pandemic.
"We should expect April and May to be much worse for all carriers, which is why we are seeing all the blank sailings," said Mr Jensen.
And there was some strong evidence today from the Korea Customs Service to show the extent of the sudden slump in demand as exports from South Korea plunged by 27% in the period from 1 – 20 April, year-on-year, with shipments to Europe falling by a massive 33%.
Ocean carriers have so far only announced blankings for around a fifth of all advertised headhaul Asia-Europe and transpacific sailings for May, but The Loadstar understands that many more will be cancelled in the coming days.
ONE is currently the sixth-ranked global container line with a fleet capacity of 1.6m teu on 221 vessels, of which 136 are on charter. It does not have any ships on order.
ONE's merged container businesses of K Line, MOL and NYK scraped a $5m net profit in its third quarter ending on 31 December but said that it expected to record a $49m loss in the fourth quarter.