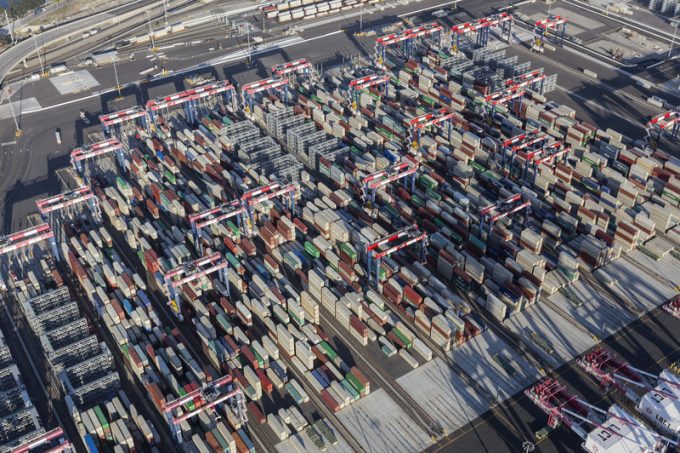 CMA CGM will raise its Asia-North Europe 40ft FAK rate by 18% on 1 January to $2,600, responding to tightening capacity ahead of Chinese New Year holiday.
Indeed, carriers The Loadstar has spoken to this week all report "full ships" in the lead up to the CNY which falls on 25 January.
"Overall it is a very healthy market," Martin Holst-Mikkelsen, head of ocean at Flexport, told The Loadstar today, "a number of services are reported full through the first and second week of January, and some vessels are closed for bookings."
Following last week's 11.6% jump, container spot rates for North Europe, according to today's Shanghai Containerized Freight Index (SCFI), show a further gain of 5.7% to $944 per teu.
And the indications in the market are that the $1,000 per teu mark could be breached in early January, as the threat of rollovers pushes up rates.
One UK forwarder told The Loadstar he was "struggling" to get rates for January shipments from his main carriers.
"We will do a deal of course, but they have the whip hand at the moment," he added.
Moreover, carriers are taking steps to ensure freight rates do not crash due to soft demand after the holiday shutdown. On Monday, the 2M Alliance partners, Maersk and MSC, joined Ocean THE alliances members in publishing extensive post-CNY blanking programmes.
MSC said it would void a number of headhaul Asia-North Europe and Asia-Mediterranean sailings right up to week 13 of 2020. It said: "The change will help us to match capacity with the expected weaker demand for shipping services."
Mr Holst-Mikkelsen said he expected disciplined capacity management by the carriers to continue into next year, with a reduction in the range of 15-20% of capacity in the two months following CNY.
Meanwhile, SCFI reports spot rates for Mediterranean ports ticked up 1.2% this week, to $1,096 per teu, a breather after the massive 41% leap recorded last week.
For this lane, headhaul vessels are also reported full and the Ningbo Containerized Freight Index commentary today says supply and demand fundamentals "remain in good condition" and that space is "tight".
On the transpacific, shippers are still taking stock of the announcement this week of a suspension by the US of the planned 15% tariffs on $160bn of Chinese imports, and the 50% reduction, to 7.5%, on the duty on $112bn of other imports.
Nevertheless, demand is weaker than expected for the peak weeks before the CNY, and reports to The Loadstar are of utilisation levels at 95%, at best, on headhaul sailings this week.
As a consequence, the US components of the SCFI recorded some slippage. For the US west coast, rates were down 2% to $1,342 per 40ft, while for east coast ports, there was a decline of 2.4%, to $2,451 per 40ft.
Adopting a similar strategy to Asia-Europe, transpacific carriers have announced a substantial number of blank sailings for after the CNY.
And as we near the end of the year, carriers have some reason to be cheerful, according to David Kerstens, of equity research analysts Jefferies. He said, in an upbeat note to investors, today: "Container freight rates are at the highest level in five years, after an 18% recovery this month, driven by bunker surcharges ahead of IMO 2020, a tightening market, with 6% of capacity idle for scrubber retrofits, a pick-up in demand ahead of CNY and easing global trade concerns."