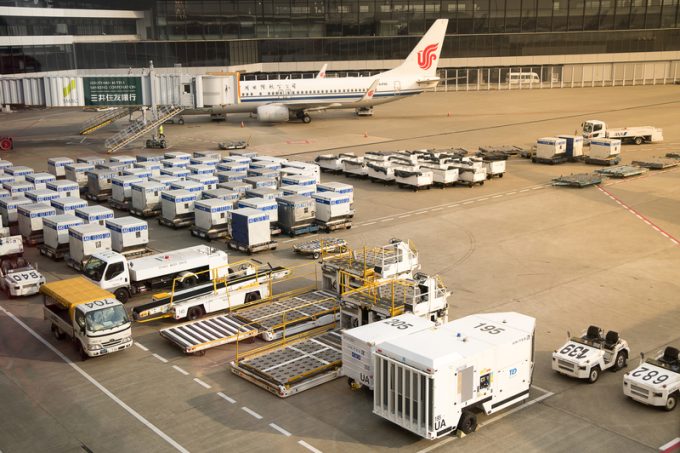 Forwarders and shippers are "feeling the pain" of a serious lack of air freight capacity in the market as rates soar on some lanes as high as $8.00 per kg.
There is "nowhere to turn", said one Asia-Europe air freight forwarder, who reported a seven-to-ten-day backlog out of Asia.
"Rates are going sky high – and going up every weekend. It's about $4 per kg as an average, and airlines are getting choosy over the type of freight they are accepting," he said.
"Lots of people are suffering – I have had three retailers, who are not customers, contact me this week with fresh enquiries, as their incumbent forwarder has not able to accommodate them."
The market seems to be facing a perfect storm – although, as one forwarder said wryly, "it isn't too bad if you are a carrier".
One of the biggest problems for general cargo is the current volume of ecommerce, which is daily, and higher-yield, according to one source.
"It's a carrier's market. Airlines are definitely becoming more selective with what they take and accept. E-commerce is a massive issue this year."
There is also less capacity around to handle a "traditional" peak, following the withdrawal of freighter capacity by combination airlines in lacklustre years, as well as a move towards aircraft such as the cargo-unfriendly A380.
It has also been reported that scheduled airlines are pulling freighter flights to operate charters, booked up by big names for product launches. One source indicated that Coca-Cola alone operated 12 charters last week from Ireland to the US, while Samsung, Apple and Amazon are also thought to have booked significant amounts of capacity.
"The problem for shippers is that they are looking for alternatives, but everyone's pot is full, so loyalty throughout the year is being rewarded," said one source.
The air freight market is particularly tight out of Hong Kong, mainland China and South-east Asia, with the situation "worsening by the week".
One forwarder in Asia said that the air freight rate kept rising, because forwarders had a significant backlog in warehouses, while the e-commerce sales days, starting with this Saturday's Singles Day, were exacerbating the situation. Alibaba reaped more than $17.8bn in sales on that day last year – a figure likely to rise this year.
Airlines out of Asia are fully booked to the EU, with Cathay, Emirates, and Finnair said to be taking bookings for one week's time. Philippine Airlines is reported to be struggling with connecting flights, with the second leg requiring more than one week in transit.
Space out of Malaysia to the US and EU is said to be "tight", but "critical" out of Taiwan, where one source says China Airlines has a 35-ton backlog.
Other carriers, meanwhile, are eyeing markets with the best rates: IAG Cargo and Qatar are said to have prioritised cargo to South America and Mexico where possible, as high demand, particularly to the latter, has seen rates "sky rocket".
Those forwarders able to get space are paying top dollar, pushing up general rates further. Some of the highest market rates look to be to Mexico out of Hong Kong, where one forwarder said it had reached as much as HK$52++ ($6.66), while another reported rates as high as $8.00++  from Seoul to São Paulo. Even Miami to São Paulo has risen to $3.70++.
Most rates seen by The Loadstar appear to be hovering just over the $4 per kg mark. One agent advised that forwarders should book shipments as express, just to protect the space.
The next two weeks are expected to continue in much the same vein, according to forwarders, with the market remaining tight until mid-to-late December, and picking up again in the second week of January.
"I am feeling the pain," said one forwarder. "Forwarders and shippers are up the creek without a paddle."