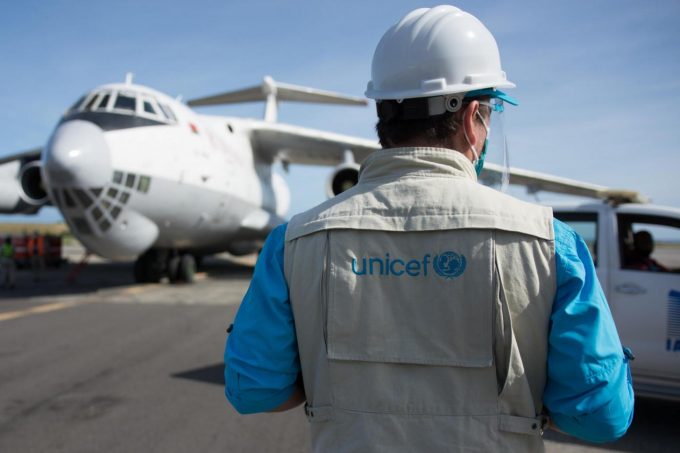 Six global forwarders will ultimately determine the rates paid to airlines by Unicef for vaccine distribution.
Yesterday, 16 airlines announced they had signed MoUs with Unicef to support its global vaccination plan.
The agreements, which last five years, do not include pricing, according to the UN children's organisation.
"Pricing is outside the scope of the MoU, but will remain subject to competitive bidding with the nominated forwarders," said Mounir Bouazar, Covid-19 vaccine global logistics lead, Unicef Supply Division.
"The terms of the agreement are confidential, but they cover commitments from airlines to work closely with Unicef and its respective forwarders to secure access, capacity, priority, schedule reliability, and cold chain monitoring."
Unicef will agree an overall rate for each country, per allocation, per round. Its contracts are not with the airlines but with the forwarders.
"But the MoUs are tripartite agreements between Unicef, forwarders and airlines," explained Mr Bouazar, adding that "we prefer not to share the pricing mechanisms, it's an internal matter".
Airlines, which were chosen on the basis of the match between the vaccine routes and their networks, must prioritise vaccines and related equipment at the expense of other cargo, according to the MoU.
However, it is not yet clear whether the programme will in reality affect other freight, a concern of air cargo customers for some time.
A spokesperson for Air France-KLM Cargo said it was "very difficult to predict, as it will depend on how many vaccines will be available for distribution, compared with the capacity demand for other cargo".
"The amount of vaccines that have to be transported is considerable, but if you compare it to the total air cargo demand, it is not that much.
"We expect we are able to accommodate all vaccine shipments within our existing capacity, and still have opportunities to increase capacity on lanes where this is needed, as not all our planes are yet in operation."
Unicef is one of the leading partners of the Global COVAX Facility, set up to ensure that the 190 participating countries have equitable access to two billion doses of vaccine by the end of the year.
Based on the COVAX Facility's indicative distribution and first-round allocation plan, 145 countries will receive doses to immunise about 3% of their population, on average, starting in the first half of this year.
Mr Bouazar added that "vaccine shipments will follow the WHO allocation to serve countries in an equitable and fair manner, proportionally to the size of their population, at every round of allocation."
While competitive bidding from large forwarders may help keep airfreight prices as moderate as possible, the MoU will help Unicef secure sufficient capacity. The UN body struggled last year in the face of restricted capacity: in 2019, it distributed 2.43bn vaccines by air. Last year it managed to move just 1.8bn.
But it is not just lack of capacity hampering the UN children's aid organisation.
Unicef noted in December that, although the air cargo market was still difficult, with longer transit times and no relief on jet fuel prices despite plunging rates, it had seen improvement since the brutal second quarter, when it faced up to 500% increases on charters.
"In terms of cost, many airlines had suspended their contract rates, and confirmed all rates locally on an ad-hoc basis. The rates have increased substantially and rapidly, as the demand for aircraft charters has been high, with Unicef registering rate increases by as much as 100% to 500% per charter."
But, it added: "Recently, Unicef has been receiving rates from airlines, some are for short durations while others are for the whole winter period, reflecting some overall improvements since the second quarter 2020.
"The limitations to airfreight presented Unicef with one of its single biggest challenge to its operations."
Africa, it said, was particularly challenging for air cargo capacity – and particularly worrying.
"It has a limited capacity to cope with shock," said Unicef. "Africa is the region currently only having an estimated 5% of the 22m [Covid cases] currently reported, which with the low levels of testing make it impossible to know the true scale of infection, which … could reach nearly 123m cases this year, causing 300,000 deaths – in which Africa may lose half of its GDP," it warned.
The 16 airlines working with Unicef are: AirBridgeCargo, AirFrance-KLM, Astral Aviation, Brussels Airlines, Cargolux, Cathay Pacific, Emirates, Ethiopian, Etihad, IAG Cargo, Korean Air, Lufthansa Cargo, Qatar Airways, Saudia, Singapore Airlines and United.