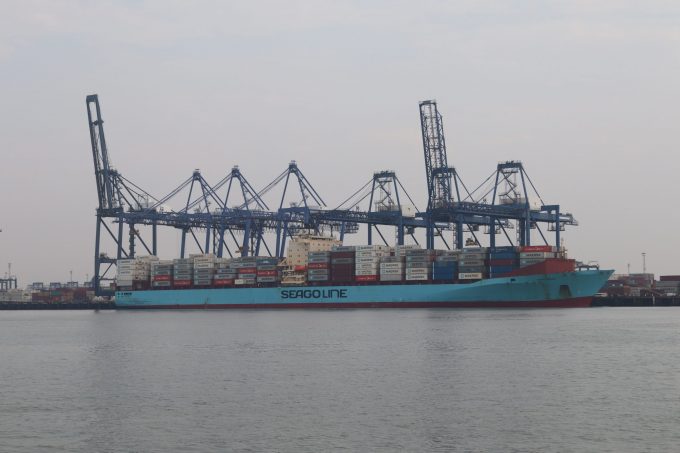 The UK's port of Felixstowe has issued an apology to customers for "inconvenience", admitting that "our service standards are not currently where we would like them to be".
On its website on Friday, the port attributed its problems to "a sharp spike in import container volumes, along with a high proportion of late vessel arrivals".
It said it was taking measures to improve service levels, which included increasing its much-criticised vehicle booking system availability to more than 4,300 vehicles a day, opening on Sunday for haulage collection and recruiting more than 100 additional equipment drivers.
The port also did a U-turn on its ban on the restitution of empty containers to the port from 7am on Saturday.
Maersk, OOCL and other carriers had had to warn Felixstowe customers of delays discharging containers from vessels and longer turnaround times for trucks, as well as import containers missing rail connections.
The slow working and landside congestion at Felixstowe had started to see carriers 'cut and run', with some calls leaving UK containers ROB for discharge at the next port, with export boxes left stranded on the quay.
Carriers have also been looking to divert ships to London Gateway or Southampton, including the 2M's Asia-North Europe AE7/Condor loop vessel, the 17,816 teu Eleonora Maersk, which will now discharge its UK cargo at London Gateway later today, with an ETS of 6am on Wednesday. The Loadstar understands that the vessel will load some exports redirected to Gateway, along with a "substantial number of empties".
The Loadstar was inundated with complaints last week from hauliers and port users describing operations at the port as a "shambles" and criticising the management for treating hauliers and service providers with "distain".
One Felixstowe-based haulier told The Loadstar this morning he was" not holding his breath" that the problems were being resolved.
"They have been shocked into action now, but only because the lines are starting to divert ships. To the rest of us, they just put their hands over their ears and are not especially worried about the bad publicity they get. It's just like water off a ducks' back to the Chinese owners."
Felixstowe said the weekly import volume for the past two weeks had been "30% higher than average levels", but one locally based carrier source said this should not have come as a complete surprise to the port.
"It's peak season after all, and the port has known about the discharge numbers coming in from China and elsewhere for weeks. I think it is more to do with them trying to get by with a reduced labour force and ultimately being caught out," he said.