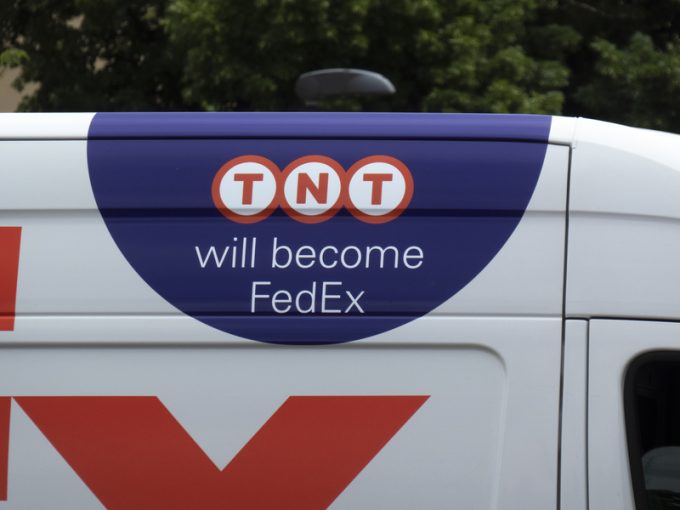 FedEx chief executive Fred Smith has pointed the finger of blame at the macro-economic environment after a difficult first quarter for the company.   
Revenues may only have dropped marginally to $17.05bn, but over the three months to September net income plummeted by more than 10% to $745m.  
"Our performance continues to be negatively impacted by a weakening global macro environment driven by increasing trade tensions and policy uncertainty," said Mr Smith.  
"Despite this, we are positioning to leverage future growth as we integrate TNT Express, enhance residential delivery capabilities and modernise our air fleet and hub operations."  
That integration process has been both costly and protracted, with Mr Smith admitting that the company has been both late and over-budget with the process.  
Nor does it seem like it will get cheaper anytime soon, with chief financial officer Alan Graf telling investors that FedEx is expecting it to generate further costs over the next two years.  
He said: "We continue to expect to incur $350m of TNT integration expenses in FY 2020 and $1.7bn billion in total through FY 2021."  
Mr Smith and chief operating officer Raj Subramaniam sought to soothe investors' fears, with the chief executive noting the integration was entering its "most important" phase.   
For his part, Mr Subramaniam noted that he was "overall pleased" with the pace at which the process was now being conducted.  
"We have picked up the pace of integration and are continuing to improve our value proposition for our customers," he said.  
"Cross utilisation of the combined networks was a major step toward full integration of the operations, and in June, these capabilities expanded across Europe.  
"We are well on our way to achieving full Ground interoperability in our pickup and delivery networks in Europe by the end of May 2020."   
And the integration process is speeding up transit times for intra-European economy parcels, reportedly improving by at least one business day on 40% of European lanes. 
One analyst seemed less certain over the process though. Logistics Trends & Insights' Cathy Morrow Roberson told The Loadstar it was causing wider problems in the group.  
"Integrating TNT is taking way too long and I fear the focus on it has caused FedEx to lose some of its international focus, benefiting competitors such as DHL and UPS," she said.  
"Yes, the slowdown in international trade is taking a toll on Express international services, no surprise, and I expect we'll see similar results from UPS when it announces earnings. 
"However, what struck me was FedEx's slow response to international trends; it has been warning the market of the slowdown since 2018… why wait until now to address it?"   
Ms Morrow Roberson suggested the company had deployed more of a "wait and see" approach to dealing with the downturn amid the uncertainty of trade wars.   
But she suggested the company may regret its decision to delay shifting focus to the more profitable Asia-Europe tradelanes and away from the traditional Transpacific/Atlantic ones.  
"FedEx noted it was behind on doing this and was planning to step it up; interestingly enough, UPS highlighted a focus on these other tradelanes at least two quarters ago," she added.  
"It is achieving success here, particularly Asia to Europe; an obvious strategy miss on FedEx's part that should have been a given in my opinion." 
Perhaps the biggest news for the company over the period was its decision to sever ties between its FedEx Ground operations and Amazon.  
While the e-commerce giant's business represented only a small proportion of its revenues, the impact of the decision hit near-term profits, but Mr Smith sought to reassure investors.   
During an investor call, he said: "We've closed additional business to replace this, it's being onboarded and we are taking out significant costs unique to Amazon's requirements."  
Ms Morrow Roberson had some positive words as far as FedEx Ground was concerned, noting that it was continuing to impress with revenue, margins and volume growth.  
She noted that investments were being made for seven-day delivery beginning in 2020 and that it was expanding its large parcel handling facilities to 100 by Peak 2020.  
"I think FedEx is juggling too much and it is dropping balls – network and new service investments  – while cost-cutting and the long, drawn-out integration of TNT," she added.  
You can see FedEx's full results here.