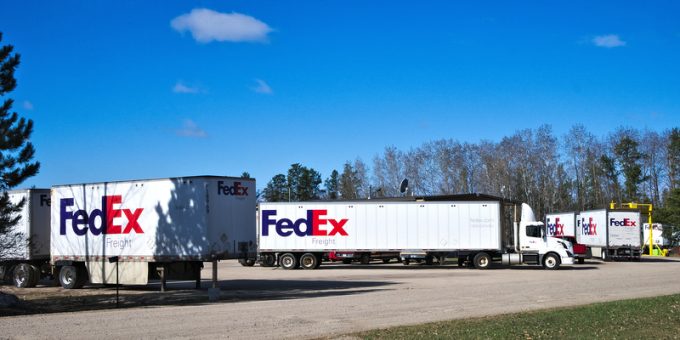 A few large US customers of FedEx were in for a surprise recently when the integrator suddenly pulled equipment allocated for SmartPost traffic.
John Haber, chief executive of logistics expenditure consultancy Spend Management, said one of his clients that usually filled three trailers a day was reduced to one.
"It looks like FedEx is targeting large users of SmartPost first. And this was done without much notification," he said. "It is putting some of our customers in a difficult situation."
All package carriers have been stretched by the surge in e-commerce parcels in the wake of the lockdown measures taken against the Covid-19 pandemic, with  packages stacking up outside some parcel carriers' facilities, added Mr Haber.
He suggested FedEx could be committing capacity to "more important volumes of freight", but it could also be that it is looking to accelerate the shift of its SmartPost business delivered on the final stretch by the US Postal Service into the integrator's own ground network – one of management's strategic objectives to boost volumes and utilisation.
B2C business is rapidly gaining in importance for parcel carriers, but while this traffic has soared during the past two months, B2B volumes have slumped.
These divergent dynamics pushed the share of B2C traffic at UPS to 70% in the last quarter, and Mr Haber suspected it may be as high as 80% in certain locations.
Dean Maciuba, director consulting services at Logistics Trends & Insights, said: "B2B was what was always driving profitability for FedEx and UPS, but the metrics on this are going down."
The pursuit of B2C traffic had brought SME shippers into greater focus for the integrators, he added.
Mr Haber noted that both FedEx and UPS had unveiled services and campaigns targeting this clientele over the past two years, and Mr Maciuba described the B2C parcel segment as a volume play that was about driving scale. In addition, dealing with SME shippers generates better margins than large customers, he added.
On 1 May, FedEx reinforced its push for SME business through an alliance with BigCommerce, a venture-backed e-commerce platform that hosts over 60,000 stores and brands and is aimed squarely at SME merchants looking for an online shopfront.
The collaboration gives new BigCommerce customers four months of free service on the platform, as well as discounted FedEx rates. Mr Maciuba sees this as an effort by FedEx to draw level with UPS, which has a similar arrangement with Shopify.
Increasingly, logistics providers active in the e-commerce arena have been looking to team up with platforms, or other relevant technology providers, to combine their services into a comprehensive one-stop shop offering. The ultimate driver of this is Amazon, which offers a simple solution at low prices, Mr Maciuba said.
"Platforms like BigCommerce manage everything for the shipper. It makes sense for UPS, FedEx and the US Postal Service to go for that," he explained. He added that the integrators' online shipping platforms were complicated for new e-commerce merchants as they were designed for regular users of their services.
For merchants, solutions like the FedEx-BigCommerce offering are very attractive, Mr Haber noted. "There's a lot for SME businesses. They can plug into a platform that has a lot more than good rates," he said. "People want more leverage and not face some of the constraints they have on Amazon," he added.
Giving discounted rates to a platform bears the risk that some customers of the integrators may switch to the new set-up.
"This has got to be incremental volume, otherwise they'd be sabotaging their margins," Mr Haber said.
Mr Maciuba noted that UPS had been more open to giving discount rates to partners to resell.
"It doesn't matter if the rate the customer is paying to UPS is diluted by moving their shipments to a BigCommerce of Shopify rate programme, if it drives more volume," he said.