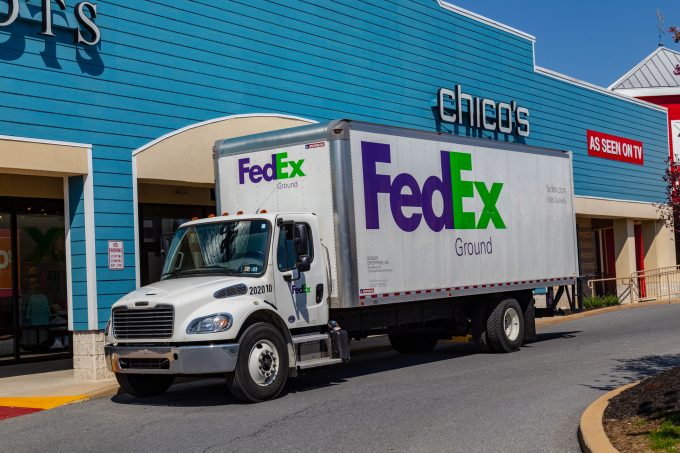 Weekends are shrinking for employees of parcel carriers, another disruption wrought by the inexorable momentum of e-commerce.
This month FedEx Ground announced its US operations were now running six days a week, with management pointing to growing e-commerce demand and record volumes anticipated for the coming holiday season and beyond.
FedEx has run weekend operations during previous peak seasons and will increase hours for some employees while planning to take on about 55,000 more to cope with the peak season volume. But it sees a need to extend service hours past the peak surge.
"The rise in demand for e-commerce goes beyond peak. It's a year-round phenomenon, and we are ready to meet that demand," said Raj Subramaniam, executive vice-president and chief marketing and communications officer of FedEx Corp.
"FedEx Ground has operated six- and seven-day operations through the holidays for several years as e-commerce has grown and, thanks to strategic investments in our network, we are now well-positioned to operate six days a week in the US all year."
Greg Merz, senior analyst, transportation solutions consulting, at enVista, said the push towards a six-day delivery operation had been building for years. It started with residential weekend deliveries of the SmartPost and SurePost offerings of FexEx and UPS utilising the US Postal Service's Saturday delivery service.
UPS has had six-day transport capability in place since 2017, a company spokesperson said.
"Saturday ground pick-ups enable online retail shippers utilising a ship-from-store strategy to achieve Monday deliveries for the vast majority of the US population," she said. "Additionally, shippers across multiple industries ranging from automotive to healthcare stand to benefit from this additional operating day."
A spokesperson for DHL Express in the US reported that the company was doing some weekend deliveries, taking international express shipments to consumers' homes.
"Because of the higher e-commerce volume, our major hub in Cincinnati is also adding shifts on the weekends. We did that last year during the holiday season," she added.
Mr Merz said the extension of service to six days was designed to capture and lock-in business from retailers, many of which are interested in weekend delivery.
Higher pay and lower density on weekends increase costs for operators, but the residential delivery fees they charge makes up for this, Mr Merz said. Moreover, the companies are trying to reduce overtime costs by shifting work schedules to Sunday-to-Thursday or Monday-to-Friday patterns.
FedEx has built up its infrastructure to boost capacity and ramp up speed and service capabilities. Over the past five years, FedEx Ground has opened nine hubs and 58 automated stations, adding nearly 36 million sq ft to its network.
To date neither FedEx nor UPS have made any move to extend their air operations to six days a week.
"We haven't found a need to add Saturday flights because of the size and flexibility of our ground and air network," the UPS spokesperson said.
Cargojet, Canada's largest cargo airline, which performs linehaul on Canadian trunk routes for all major parcel carriers (including Canada Post), added a scheduled Sunday flight from its hub near Toronto to Calgary and Vancouver to cope with increased volumes and avoid bottlenecks.
Mr Merz does not expect an announcement of weekend flying from the big US integrators in the immediate future, but he would not be surprised if it happened longer-term.
And he does not think the push into weekend deliveries will end with a six-day operation.
"We're definitely going to see seven-day deliveries at some point," he said. "Amazon already has an agreement with the US Postal Service for Sunday delivery."