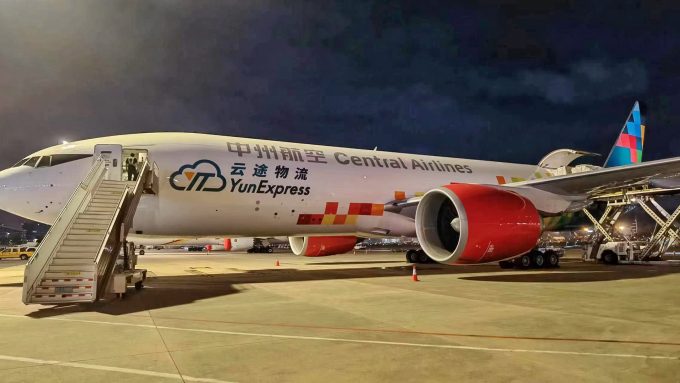 It may have a way to go to catch up with Amazon – or even some of the multinational forwarders or shipping lines – but another Chinese e-commerce logistics provider has taken a step into aircraft ownership, operations – and capacity sales.
Zongteng Group, parent of YunExpress, a Chinese cross-border e-commerce logistics provider, has purchased a 12-year-old 777 freighter, to be operated by Central Airlines and based at Zhengzhou.
It has already operated a route to Riyadh, and will work on services from Shenzhen to the Middle East and Europe, three times a week. Its European operation, to Paris CDG, could start as early as December.
Zongteng, which has 23 warehouses in the US, UK, Australia and across Europe, sees about 100,000 orders a day. Nevertheless, it is bucking the trend by offering its capacity to third-party logistics companies, said a spokesperson.
It's not just aircraft in its sights. Zongteng, which had a turnover of €3.85bn ($3.58bn) last year, also signed an agreement with Cosco Shipping in June on cross-border e-commerce business.
It said: "The cooperation will help both sides cross-sell and achieve corresponding business growth. At the same time, it will change the simple capacity or contract performance service into a longer supply chain service, provide flexible solution space for the diversified development of customers and improve the relationship with customers."
Zongteng said the aircraft would help it "gain greater control over the entire supply chain, and thus significantly enhance stability and efficiency beyond the standard e-commerce parcel delivery services".
While it is not the first e-commerce company to acquire an aircraft, it appears to be the first to opt for a single 777. And a spokesperson said the company was not looking to order any more.
It follows JD.com, SF Express, YTO Express and Cainiao into the airfreight scene. JD launched JD Airlines this year and has two 737Fs, Cainaio is awaiting delivery of a 737F and SF Airlines has a fleet of 76 aircraft, the largest of which are 767Fs. YTO Cargo Airlines has a fleet of 12, including two 767Fs.
Zongteng said: "B777F enables Zongteng Group to form an air-to-ground connection, with global cargo collections, line haul transport, fulfilment warehouses and distribution centres, which further consolidates the company's end-to-end supply chain infrastructure."