A sponsored post by World Options
With the demand of online shopping, everyone wants fast delivery. Which means more and more businesses are looking for competitively priced, easy to use online systems to book and send parcels worldwide.
One company making a big impact in the business sector is the online courier service company World Options. 
How it began 
World Options, is a UK company founded in 2003 by Stewart Butler, a Mancunian who lived on some of the area's toughest council estates in the 80s and 90s. Its headquarters is in the East Lancashire town of Clayton-le-Moors, with additional offices in the US, Australia, Belgium, the Netherlands and Singapore. 
With a sales and marketing background, Stewart worked for a competing courier services company before branching out to create World Options. His love of technology and software development as well as dedication to help businesses ship goods fast, drove Stewart to create the World Options online shipping portal. 
 The firm now has more than 100 franchises worldwide, a turnover of over £25m and handles over a million shipments a year. 
The online portal is designed to help solve businesses' shipping and courier needs with a simple online shipping solution for booking courier services in just a few clicks.  
Businesses can sign-up to a free online account, there is no contract or tie-in, and businesses can use the account as much or as little as they want. They get assigned a dedicated account manager to help guide the business with shipments. 
How it works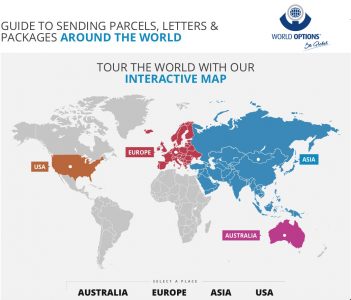 Often businesses don't realise that making small tweaks to how they ship parcels, packages and pallets, the speed of transit chosen, or size of packaging can make a huge difference to the total amount spent in a year, but these small tweaks often lead to saving hundreds or even thousands.  
The question many businesses find challenging is: which courier or shipping supplier can provide your business the best rates and get the shipments to its required destination with minimum hassle? 
Instead of being restricted to one courier supplier, businesses should have a choice of several couriers. World Options online shipping portal offers a choice of multiple leading courier brands in one place. 
Businesses can login and ship goods using a choice of FedEx, UPS, DHL, TNT through the World Options online shipping portal in just a few click. 
Simply enter the shipment weight, dimensions and destination to view multiple quick quote prices from all the above carriers in seconds. Book the shipment and the selected courier will collect the goods and deliver to its chosen destination.  
What's also helpful is World Options has put together A GUIDE TO SENDING PARCELS AROUND THE WORLD to help businesses. 
For many businesses having a system to view multiple big brand name courier quotes fast in seconds is essential for their business success. 
Karen, a dispatch manager, who works in the car industry in Bury, Greater Manchester, said: "I use the World Options online portal 10 to 15 times a day for tracking, booking, and also for shipping quotes. If someone wants to buy something from us on eBay and they're in Canada and they want a price first, you can use the portal to quickly find out that information. 
"So far this month, I've sent 175 parcels, mainly in the UK but also some European deliveries with UPS, and some collections with TNT. We also have customers where we just send a label over and the customer can drop their parcel off at their local UPS drop-off point." 
Paul, a brand manager for a bespoke luggage manufacturer in Rochdale, said: "As a small business I don't want to spend half my morning chasing after a courier – it simply wouldn't be cost effective to do that. One email to our account manager at World Options and that's all I need to do. To me this service is vital – as a small business with a small number of employees it is far better to use World Options and get their person to track down a package than it is tie up either yourself or one of your employees. 
"If things are working perfectly and smoothly then it doesn't matter, it makes no difference, but when it goes wrong then that's the difference between using World Options or a different direct courier service". 
The advice from World Options is:  
1) When was the last time you reviewed your business shipping process? 
2) Are you sure you are getting the best courier rates and customer support? 
3) Do you have a choice of world leading couriers and flexibility?  
4) Is the system you are using easy and simple to use? 
5) Is your current provider available to speak to if there is ever a problem with your shipment?  
If the answer is no to any one of the above, it's time to review your shipping process; it could save your business thousands.