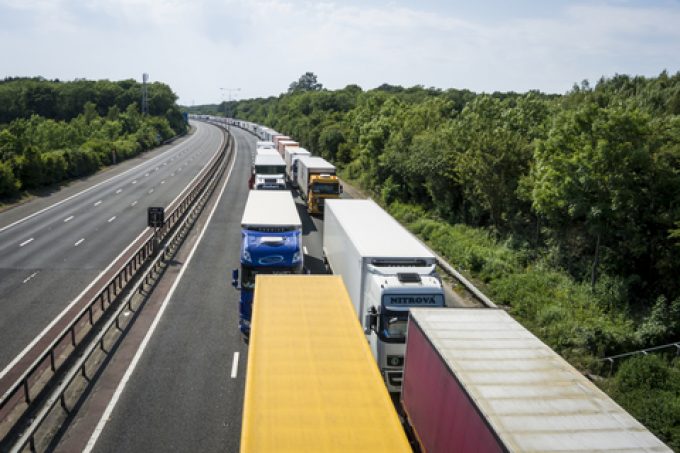 Truckers heading to the port of Dover once post-Brexit volumes recover could find themselves stuck for up to 20 days in 70,000-long truck queue.
That is unless new infrastructure is built, extra staff hired and considerable cargo volumes diverted to other ports, according to new modelling undertaken by Simul8.
It says if truck check-in times increase to 20 minutes at Dover, which would put it in line with non-EU member customs policy, a queue of 70,594 vehicles – equivalent to around 20 days' delay – could form. This would represent the port being at some 500% overcapacity.
However, Simul8 also fed in what would happen if an off-dock parking area for 2,000 trucks was built, along with seven new inland entrances to serve as new custom checkpoints and new staff were hired to reduce the average check-in time from 20 to eight minutes, the overcapacity would be reduced to around 300%.
And if 20% of Dover's normal cargo flow was diverted to Southampton and another port, the overcapacity at Dover would fall further, to 210%, while if 50% of its cargo was diverted to other ports it would fall to 140%.
Simul8 chief technology officer Frances Sneddon said: "This particular digital simulation plays with just a few of the viable options posited, and it begins to provide useful evidence for the best solutions. But it really just touches the surface of the variables at play.
"Wider modelling will produce the roadmap that is needed to unlock the challenge of adjusting the UK's flow of goods through its ports as it leaves the EU," she added. "Adopting this scientific approach when planning for the unknown, especially at this scale, is arguably the best way to start rationalising the problem.
"The thought of over 70,000 trucks stuck on the road is nothing short of alarming, at first, but by testing the options available and then tweaking the system, suddenly it is possible to find out exactly what is needed to alleviate the bottlenecks, so that sensible decisions can be made.
"Testing all of this in a digital space before it can cause any major disruption in the real world makes digital simulation a unique and invaluable ally," she added.