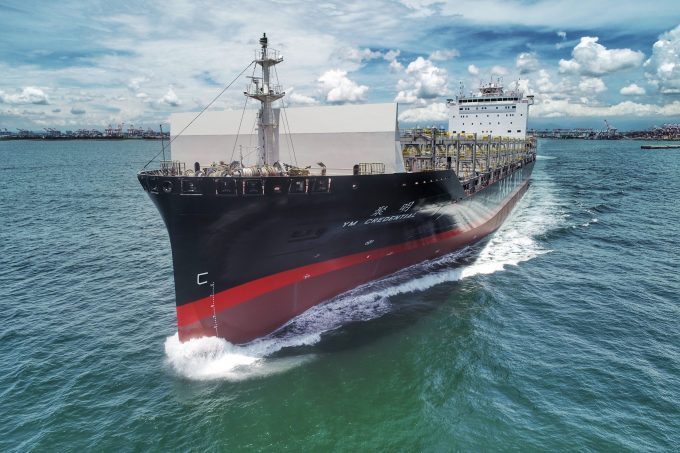 Yang Ming is pressing ahead with plans to build five 15,000 teu LNG-powered containerships, despite the Taiwanese liner's revenues plunging across the final quarter of last year.
Figures from the Taiwan Stock Exchange show Yang Ming's cumulative turnover in the period was 42% below Q4 21, at TW$60bn ($1.96bn).
Yang Ming is the first Taiwanese line to invest in LNG-fuelled ships, but the company has yet to settle on a shipbuilder. A spokesperson told The Loadstar the company's plans for its fleet were in line with "the global move to achieve decarbonisation by 2050″.
She said: "We have drawn up a shipbuilding plan based on the replacement of old ships and business needs, dependant on the development of (environmental) regulations, availability of alternative fuels and engine technologies."
Indeed, last Friday, Yang Ming announced plans to install scrubbers on all its owned ships. Currently, five of its 8,626 teu ships are scrubber-fitted.
According to Alphaliner, Yang Ming is the eighth-biggest user of scrubbers among liner operators, significantly behind the top three, MSC, Evergreen and Maersk.
The spokesperson said, "In response to environmental regulations, we're installing scrubbers on our ships, as the first step to reduce air pollution. The company is also complying with regulations to reduce greenhouse gas emissions by developing energy-saving retrofitting plans for existing ships, and will strengthen various energy-saving technologies, such as the application of environmentally friendly paint on hulls and shore-based power supply."
On vessel deployment plans and blanked voyages, amid falling cargo demand, the spokesperson said Yang Ming would "pay attention to the changes in the market and assign ships accordingly".
Yang Ming's cargo volumes peaked at 5.1m teu in 2020, but have since fallen; volumes in 2021 totalled 4.41m teu. Anmd its falling revenue in the last quarter was mirrored by its compatriot carriers.
Its larger peer, Evergreen, disclosed its Q4 22 revenue to had fallen 29%, year on year, to TW$110.89bn ($3.62bn), while Taiwan's other notable container carrier, Wan Hai's revenue for the period was TW$39.43bn ($1.29bn), a drop of 44% on Q4 21.