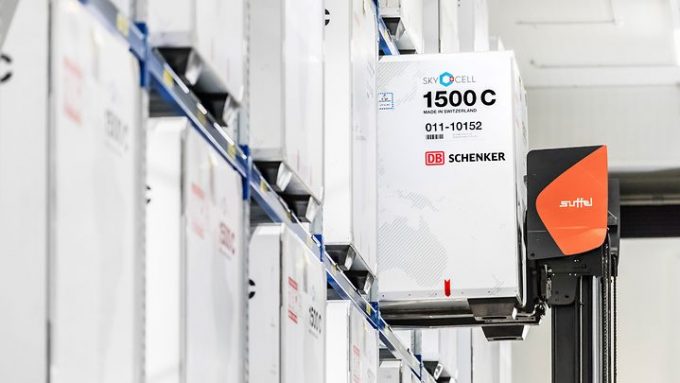 Milestone agreement for the lease of SkyCell's hybrid pharma containers • Containers maintain constant temperatures for more than a week • Suitable for all Covid-19 vaccines on the market
DB Schenker increases response to the pandemic by signing a Master Lease Agreement (MLA) with SkyCell. The partnership enables DB Schenker to enhance its vaccine logistics service solutions with additional flexibility through the new healthcare product DB SCHENKERlife+. Based in Switzerland, SkyCell manufactures innovative temperature-controlled air freight containers for pharmaceutical supply chains that can maintain internal temperatures as low as -80°C to -15°C for a minimum of five days, and temperatures of +2°C to +8°C and +15°C to +25°C for more than eight days. As part of the new partnership with SkyCell, DB Schenker's service portfolio is extended by an additional reliable packaging solution to transport lifesaving pharmaceutical products, such as vaccines against Covid-19, globally.
Thorsten Meincke, Global Board Member for Air & Ocean Freight at DB Schenker: "Logistics matters extensively in trying to overcome the pandemic and DB Schenker is already transporting Covid-19 vaccines worldwide. With this agreement, we upgrade our existing broad portfolio of healthcare-related logistics services with even more capability for our customers for the widespread roll-out of global vaccinations. With SkyCell, we have found an excellent partner in this endeavor to provide high quality on a global level."
Richard Ettl, CEO of SkyCell: "As we continue to navigate this difficult time together, we are committed to helping our partners achieve their goals, and ensuring these vital medicines are transported in a safe and timely manner. When shipping vital pharmaceutical products, there is no room for error, and our innovative containers will help ensure these vaccines arrive in a safe, secure and sustainable manner. We are excited to be working with DB Schenker to help enhance vaccine logistics and the supply chain in this fight against Covid-19."
SkyCell provides hybrid temperature-controlled packaging solutions that enable efficient belly-hold transportation of important vaccines and other pharmaceutical products to areas that lack adequate cooling infrastructure. The high-quality hybrid containers allow transport at various temperature stages and can maintain temperatures without the need for electricity for more than eight days. This time can be prolonged by recharging in a cool environment. For SkyCell's batch of -80°C to -60°C and -30°C to -15°C containers, the run time is a minimum of five days.
Depending on the size of the container, each can carry 30,000 to 60,000 vials. By using lightweight, environmentally friendly material, the technology enables efficiency and reusability while supporting DB Schenker's sustainability ambitions. Furthermore, the packing solution is shock absorbent and has a double door to prevent damage caused by humidity.
Veronique Dameme, Head of Global Vertical Market Healthcare at DB Schenker: "Managing supply chains and transporting critical pharmaceutical shipments has never been more important. With DB SCHENKERlife+, we offer successful logistics solutions that are tailored to our customers in the healthcare and pharmaceutical industries. Using SkyCell's packaging solution will not only provide ease of use for our employees, but a best-in-class solution for the safe transportation required by pharmaceuticals. By signing the agreement, we are adding another reliable solution to our DB SCHENKERlife+ portfolio."
Nico Ros, CTO of SkyCell: "The security of medicines plays a key role in the pharma industry and we are glad to have with DB Schenker a partner that also invests in monitoring technology and infrastructure. SkyCell containers have been equipped with IoT sensors since 2012 and with nearly one billion shipment data collected to date, we can simulate future shipments to minimize risks."