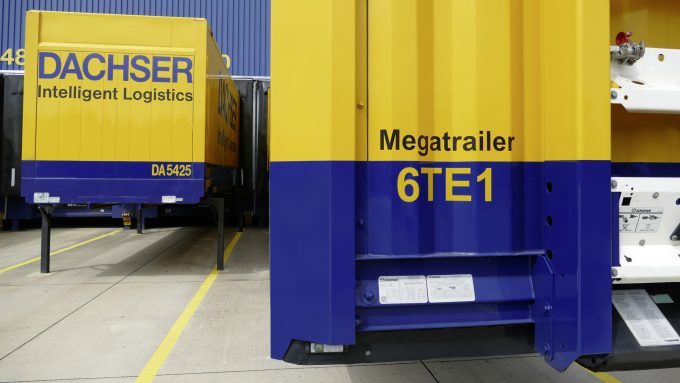 Improved efficiency and associated climate benefits kick-started a move by Dachser to convert its German fleet to new mega-trailers by 2027.
A spokesperson said moving away from swapbodies to mega-trailers would bring an almost-20% increase in capacity utilisation and see emissions cut as a result of fewer trips.
Road logistics COO Alexander Tonn said: "Dachser pioneered the introduction of the swapbody 50 years ago, and it remains the benchmark in terms of cargo space efficiency.
"Today, we want to be the first major groupage provider in Europe to use mega-trailers instead of standard semi-trailers, and while they are more expensive to purchase, they make up for it over their service life through their greater cost-effectiveness, which contributes to our long-term climate protection strategy."
Mega-trailers have the same length and width as a standard semi-trailer, but they have eight cubic metres more cargo space, which derives from an additional 20cm of interior height. This is achieved by lowering the loading area to just under 100cm above the road surface, thereby ensuring the vehicle complies with Germany's four-metre maximum vehicle height regulations.
Head of Dachser's technical department Christian Schuetz said: "The limiting factor in groupage is usually not maximum permissible total weight [40 tonnes], but available loading volume.
"More cargo space means better capacity utilisation. and in the case of the mega-trailer that can be as much as 18%. This is efficient and also good for our carbon footprint, as it saves us trips."
To achieve the conversion of its German fleet, the company will need to acquire some 680 mega-trailers over the next six years.
Dachser also announced it would begin migrating its wider European fleet, which covers some 24 countries, to mega-trailers. However, a spokesperson said no hard date had been scheduled for completion.
A spokesperson told The Loadstar: "This is yet to be defined internally, so we cannot communicate country by country info at this point; only that conversions in other European countries will start in 2022."