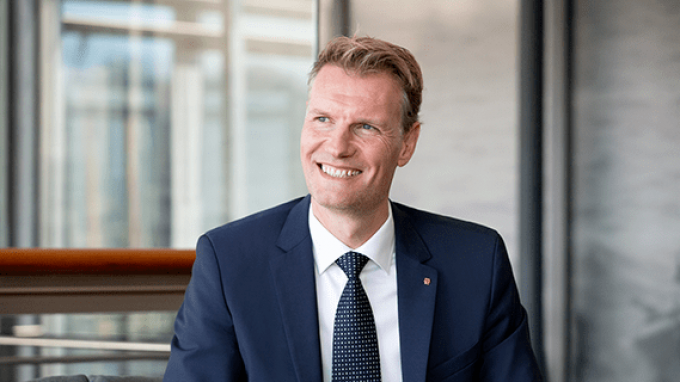 Airlines and shipping lines should work together to ensure sufficent prodcution of sustainable fuels.
But, even as speakers at class society DNV's future fuels conference endorsed LNG as a bridging step, Maersk announced it could achieve net zero emissions 10 years early, by 2040.
Professor Lynn Loo, CEO of the Global Centre for Maritime Decarbonisation, said: "We need to move together. We want to foster collaboration across sectors, because these solutions don't necessarily come from shipping alone. So, inside the sector with shipowners and charterers, but outside, with refiners and bunker suppliers.
"An example would be biofuels. The aviation sector also needs sustainable fuels, from biomass. So, this is a huge opportunity to collaborate with the aviation sector, if for nothing else than to reduce duplication of effort – aggregating resources and building up common infrastructure."
This cross-collaboration becomes ever more viable as shipping lines, swollen with earnings from the last two years, look to acquire assets in air freight and other segments.
MSC CEO Soren Toft also made mention of biofuels in his speech at the conference, referring specifically to bio-gas and bio-methanol, fuels which are generated by harnessing already extant emissions of methane from landfills, sewage, and agricultural waste.
"We believe there may be a pathway to bio-LNG, and eventually synthetic LNG, which is produced using waste biomass," he said. "These fuels can be stored using existing infrastructure, in contrast with other new fuel types."
Bio-methane already has traction in shipping, following its use by CMA CGM last year.
Mr Toft said LNG would be a crucial bridging step. Vessels that must be built now, he said, could be easily retrofitted to comply with future emission standards, and LNG was a necessary part of this.
"We need to change the energy mix we have," he said. "The total cost of decarbonisation for shipping is in the trillions. When we change the fuel source of a ship, it is not a decision that is going to last five to ten years, but 25 to 30 years. We need a better understanding of what the future fuels will be and ensure that the additional cost will be passed on to the consumer."
But electro-fuels, such as ammonia and methanol, also have more in common with LNG than with shipping's conventional fuels, meaning that development toward LNG can in some respects be regarded as a step toward zero-carbon. This, Mr Toft said, was why many carriers were ordering dual-fuel engines for their vessels, as a hedge.
"It is important to remember that LNG offers an immediate 20% [CO2] reduction and, while we need net-zero fuels, LNG will be an important transition.
"Governments may not be the main driver of decarbonisation activities, but they play a vital role in catalysing," he explained. "To cover the cost of the transition, we certainly support a global market-based measure incorporating some form of carbon pricing, which will reduce the cost gap between fossil fuels and zero-carbon fuels."
Mr Toft added it was crucial to "…recognise that shipping remains the least carbon intensive form of transportation" and must "…continue to do our part, while continuing to operate responsibly and expand to meet the increasing global demand".
Even so, MSC's alliance partner Maersk has announced it would shave a decade off its target of achieving net zero emissions.
"New aspiring emissions targets expected to align the company with the net zero criteria of the Science Based Targets initiative pathway to limit global warming to 1.5˚C. They include a societal commitment to act now and drive material impact in this decade and a commitment to deliver net zero supply chains to customers by 2040."
Maersk has resisted the call to use LNG – considered by many environmental scientists as more damaging than diesel or HFO – for immediate greenhouse gas reductions, using green methanol and supporting investigations into ammonia as a fuel.
Many of the Danish carrier's customers have also targeted 2040 to meet net zero targets and it appears Maersk could expect to gain a significant competitive advantage among larger shippers than its alliance partner and other lines.
In a later panel discussion, the theme of cross-industry collaboration re-emerged. Rebecca Glasser Herlofsen, non-executive director of Ferdinand Invest and independent director of Wilhelmsen, Equinor and Klaveness, discussed the recently agreed sustainability-linked contract of affreightment signed by the latter.
"Customers have to be willing to engage with shipowners to get to lower emissions," she said. "This contract sets a trajectory for what the emission is going to be, and that's linked to the freight rate in the contract. This is similar to what we see can be done in bank loans where there are some benefits from hitting certain targets. It does show that customers are getting behind this and asking for better results."
JP Morgan MD Andy Dacy added that shipping's decarbonisation efforts would likely be assisted by an increased global awareness of its role.
"The pandemic has helped us, not only economically, which we've seen, but it's made us more aware of the daily life people, particularly in the US, may not be familiar with. So, up and down the supply chain we need companies like Walmart and Amazon to be thinking about how they fit into this process."