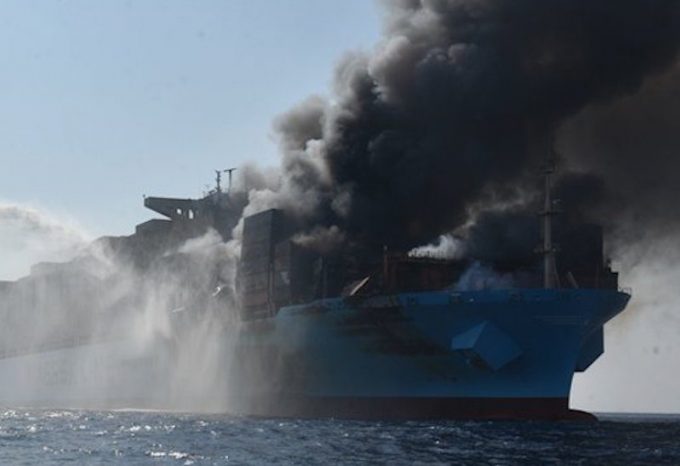 A container shipping group, set up to increase safety levels in the industry following a string of sometimes fatal box ship fires, has produced its first set of guidelines to help operators prevent further incidents.
The Cargo Incident Notification System (CINS) today published Safety Considerations for Ship Operators Related to Risk-Based Stowage of Dangerous Goods on Containerships, specifically in response to "a number of serious fire incidents in recent years, often caused by deficiencies in cargo declaration and cargo packing".
A copy of the publication can be downloaded here.
CINS chairman Uffe Ernst-Frederiksen said: "Cargo-related incidents which result in fire and explosions are rooted in cargo problems. Subsequent investigations demonstrate a wide range of deficiencies relating to cargo presented for shipment.
"These deficiencies include erroneous classification and declaration, packing, segregation and securing, not complying with IMDG or not following the CTU Code and packaging not complying with IMDG. This new best-practice guidance for DG stowage is intended to help improve fire safety in our industry," he added.
The group stressed that the guidelines "complement – but do not replace – the existing measures already developed and implemented by ship operators for the carriage of properly declared dangerous goods. Likewise, they do not replace the SOLAS and IMDG requirements for stowage and segregation – in fact, they will enhance the requirements of these regulations".
Investigations into deadly fires on board containerships in recent years have demonstrated that there is a class of cargo which, although not classed as dangerous goods, is thought to have increased the severity of some of the fires.
"Such commodities include, but are not limited to, charcoal, wood pellets, metal scrap, borings, shavings, turnings and seed cake," advises the publication, which also includes stowage plan strategies to mitigate the risk of this type of cargo escalating a blaze into a severe fire.
CINS was established in in 2011 and its board comprises five of the world's largest container shipping lines – Maersk, Hapag Lloyd, MSC, CMA CGM and Evergreen – together with three advisory board members, International Group of P&I Clubs, TT Club and Exis Technologies.
Its membership comprises over 85% of the world's container slot capacity.