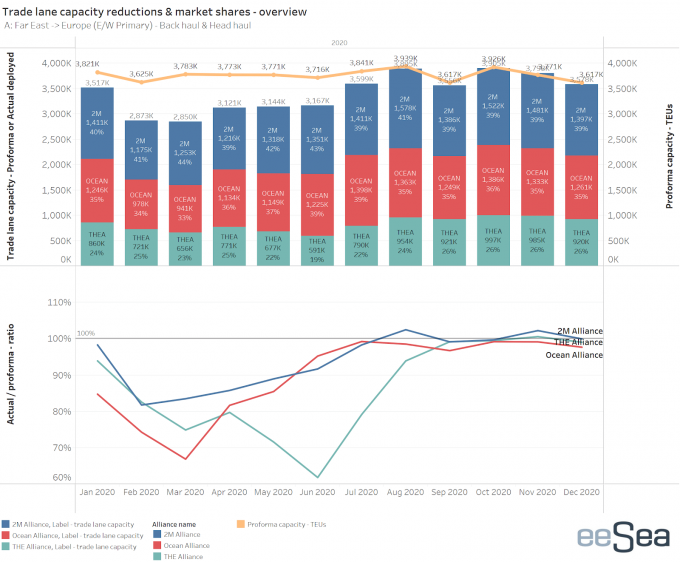 Covid-19 lockdown restrictions on consumers, particularly in Europe and the US, has resulted in a dramatic slump in demand for container space and forced ocean carriers to blank hundreds of sailings.
According to the latest data from Copenhagen-based maritime and supply chain intelligence company eeSea, carriers have so far cancelled 302 headhaul voyages in May across the major tradelanes – 11% of the 2,693 proforma sailings.
That number is likely to increase significantly as carriers assess the full extent of the damage to their forward bookings from governments shuttering non-essential stores and entertainment centres.
"Global container shipping faces an unprecedented drop in capacity in 2020," says a report today from eeSea.
"It's a very fluid situation and changing daily," said eeSea founder Simon Sundboell. "It is a challenge for us to double-check the often conflicting information from carriers, even within the same alliance, and to ensure that we update our database correctly, but it must be a nightmare for shippers," he told The Loadstar.
"What I find interesting is not the daily trickle of advisories from the carriers, or the eye-catching amount of teu capacity blanked, but the high-level picture and the pattern going forward," said Mr Sundboell.
"If I were a shipper in Asia, or a buyer in Europe or the US, I would also want to know how much capacity had already been cancelled in the previous months – per trade, per alliance and carrier and even down to per week.
"That is what I need to understand the impact on my business, including whether my shipments could be at risk."
Indeed, The Loadstar reported last week that shippers were finding it increasingly difficult to keep up with the carrier changes.
"They come in dribs and drabs, some carriers are good at communicating the changes, others are awful and even their local agency offices are left out of the loop," said one UK forwarder.
Ports, feeder operators and service providers are also left confused by the rapid changes that the carriers are making to their networks, particularly if the loops are suspended or merged together.
For example, on 8 April THE Alliance members, Hapag-Lloyd, ONE, Yang Ming and HMM announced that the Asia-North Europe FE2 and FE4 loops would be merged with effect from weeks 19 to 26, with the North Europe discharge ports rotation "subject to berth window availability".
However, last week THEA lead line Hapag-Lloyd advised its customers that following the sailing of HMM's newbuild 24,000 teu flagship the HMM Algeciras from China at the end of this week the FE4 loop would be "temporarily suspended to match the reduced demand" until week 26.
Hapag-Lloyd said that the FE2 loop's itinerary would thereafter be amended to mitigate the impact of the suspended service; however there would no longer be a direct call at the UK's London Gateway hub, which features on the FE4 schedule.
"A lot is happening these days, and it can be hard to keep a tab on it," said Mr Sundboell.
He added that there was also a need to take into account variations in vessel capacities between services, as well as the entirely ceased services, beyond the blanked voyages and temporarily suspended services.
"The critical information is in the detail," said Mr Sundboell.