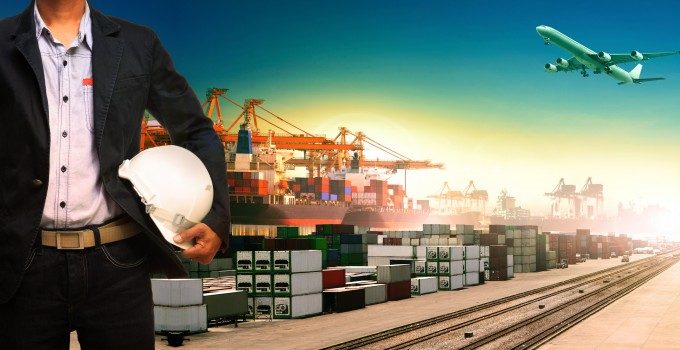 This article, the first in a series of extracts from Aviation Logistics, a new book by Michael Sales and Stan Wraight in conjunction with TIACA, charts the birth of the dedicated air freighter and air cargo, as a viable commercial tool, becoming a reality.
A number of aircraft types were in use during the 1950s and 60s, but what was needed was a custom-built aircraft suitable for the task. The aircraft would require a strong floor with roller beds for sliding heavy pallets, a lifting front nose cone or retractable back ramp, and a high interior cabin ceiling.
All of this was needed to allow fast and efficient loading and unloading. Aircraft do not make money on the ground.
Very few airports were willing to invest in the necessary ground handling facilities that cargo desperately needed. As the added value of freight traffic became recognised investment in cargo facilities spread around the world, led by airports such as Hong Kong, Singapore, Miami, New York and Dubai. Vast improvements in Customs procedures and electronic documentation have, over the last twenty years, pushed the industry into quicker and more competitive ways.
The airfreight industry, as we know it today, was revolutionised by the arrival on the scene of a new generation of jet aircraft, the DC-8 and Boeing 707, capable of cruising speeds of around 550 mph with a payload in the freighter version of up to 40 metric tonnes.
Also, the invention of special freight containers called unit load device (ULD) heralded faster and more controllable loading, unloading and a more efficient use of available space. These containers were essential for maximising use of capacity and speeding up handling. Constructed of aluminium, the ULD is very light but fragile and thus sustains considerable damage unless properly handled.  Other types of special containers have been developed such as temperature-controlled boxes for perishable cargo, pharmaceuticals, and live animal stalls.
The Boeing 747-100, the first jumbo jet, took off on its maiden flight from Seattle on 9 February 1969 The B747 was first designed for the US Air Force as a military freighter, but as Lockheed won the contract for what became the C5 – Galaxy, Boeing went on to concentrate on developing the B747 as a commercial passenger and cargo aircraft, which in its successive versions, has flown the world for 45 years.
A freighter version with a larger side door and a nose-loading capability came in with the B747-200 series.  Between 1970 and 1991 Boeing built 476 aircraft, including the improved B747-200 and B747-300 versions.
One interesting variant was the 747 Combi or 747M for main deck. This was the perfect aircraft for countries which wanted the operating economics of the 747 yet did not have the passenger market to support a total passenger configuration. These aircraft were equipped with a full cargo door aft of the wing, allowing access to the main deck for palletised cargo. Two versions were offered, the 7 main deck pallet position (MDP) version, and the much larger 12 MDP versions. Carriers with a smaller home base such as KLM, China Airlines, Asiana, and Air Canada were the main clients for this variant from Boeing.
A wide variety of engines and configurations were adopted during this period. Many of the passenger aircraft were subsequently converted to freighter configuration as the price of the used aircraft declined. However operating economics of 747 converted aircraft are making this increasingly less likely in the future.
Next: Air cargo under pressure
Aviation Logistics will be published by Kogan Page in early 2015 and is aimed at students of logistics, airport and airline management as well as professionals within the logistics business worldwide