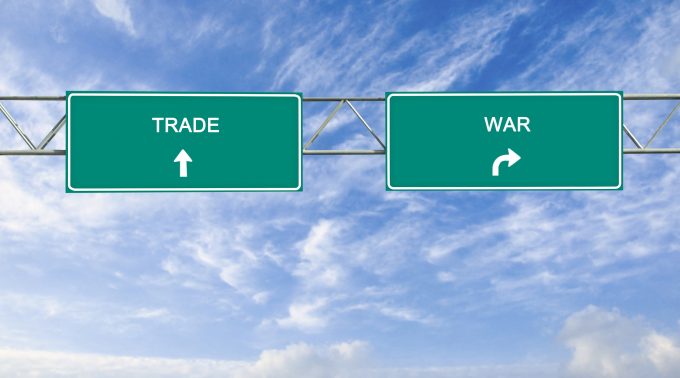 A rush to beat the tariffs imposed by the US and China in the latest trade spat could spark a change in freight movements and rates.
Over the weekend, China retaliated against the US imposition of 25% tariffs on $34bn of Chinese goods, by targeting the same value of imports.
The Chinese list includes includes beef, poultry, pork, dairy products, seafood, tobacco and soybeans, while a further $16bn of US products, including coal, crude oil, natural gas and medical equipment could be targeted at a later date.
The US lists have now been released and include aerospace parts and machinery, and it too has $16bn-worth of other Chinese goods 'under review'.
US retailers have been quick to criticise the US tariffs, calling them "reckless".
"America's families and farmers will be the ones hurt most by these tariffs… For many American families, these increased costs will wipe out any gains from tax reform," said Hun Quach, vice president of international trade for RILA.
"Today's action is a reckless escalation of the global trade war that will do little to address the underlying problems with China. With Canada, Mexico, the EU and China all promising retaliatory measures at the same time, America's retailers, farmers, autoworkers and American employees throughout the global value chain are at risk.
"In a trade war, there are no winners, only losers."  
His words were echoed by Richard Liu, founder and CEO of JD.com, who told CNBC that a Chinese preference for imported goods would ultimately mean American brands would suffer most. 
But for US importers looking to get tariff-hit cargo from China before the July 6 deadline, it could pay to use air freight instead.
Ti's John Manners-Bell told media he expects to see "significant" rate increases and a shift of some cargo from ocean to air freight as companies rush to move goods, something he "has certainly seen in the past".
However, after the deadline, trade between the two countries could be muted, affecting all transport modes.
China, however, appears to have left the way open for negotiations, saying it was "too early to conclude that a trade war will start".
Meanwhile, the UK Financial Times has published an interesting piece examining what it calls the "topsy turvey" of Trump's 'logic'.
It concludes with a quote from 1937, by UK economist Joan Robinson on tariffs: "It would be just as sensible to drop rocks into our harbours because other nations have rocky coasts."