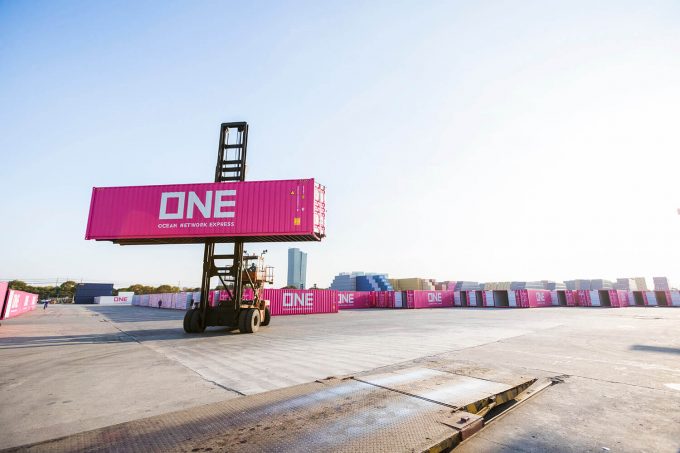 ONE [Ocean Network Express] is officially one year old today, but its Japanese owners, K Line, MOL and NYK, have had little to celebrate since the chaotic launch of the merged network last April.
However, ONE said today it was now "better equipped" to deliver on its pre-launch promises, thanks to its "stabilisation" and "reformation" strategy.
And the most recent statistics released by the carrier, showing utilisation levels on the two major tradelanes, appear to confirm that carryings at least are now on a par with the load factors achieved by the three companies before the merger.
ONE achieved an average load factor on its headhaul transpacific service of 93% in February, while there was an impressive 98% utilisation of slots on the Asia-Europe route.
And MOL, a 31% stake holder in the carrier and celebrating its own 135th anniversary today, said confidently: "We are expecting ONE to recover from its teething problems and return to profitability."
MOL, along with NYK, a 38% shareholder, and K Line, with 31%, have been badly hit financially, not only from the losses at ONE, but also from the termination of charters on vessels that were surplus to the requirements of the newly formed carrier.
And the Japanese trio suffered dents to their proud reputations of close customer contact with key accounts, as their sales and marketing and customer service departments were fragmented.
The announcement in October of a $3bn investment to propel the merged entity to become the sixth-ranked global container line, with a combined fleet of 1.5m teu, was not only supposed to herald a $1.1bn annual synergy cost saving, but also return the lacklustre container sectors of the Japanese groups to sustained profitability.
But chief executive Jeremy Nixon revealed to investors in November that ONE was heading for a $600m loss in its first fiscal year, ending on 31 March 2019.
He blamed "teething problems", the root cause being that ONE had "underestimated the initial launch resource requirement" of the merged operation. Simply put, there were not enough people transferred from the legacy companies to cope with bookings and sales enquiries, resulting in even loyal Japanese exporters becoming so frustrated that they were obliged to book cargo with rival carriers in order to maintain their supply chains.
Headhaul liftings for ONE on the transpacific plunged to just 70% of its available capacity last April, while headhaul Asia-Europe carryings slumped to a dismal 58%.
After several more significantly below-budget months for liftings, ONE recovered to an average of 90% utilisation levels on both the main tradelanes in the second quarter and, by Q3, was hitting average headhaul load factors of 95% for the transpacific and 92% for Asia-Europe.
Mr Nixon admitted that the botched launch would cost the carrier around $400m from the bottom line in the first year, and that although a recovery had begun he said that there was still much work to do to regain the support of the Japanese lines' traditional customer base.
As ONE begins its second year of operation, it said that, by "strengthening its core capabilities in all aspects of the business, ONE is now better equipped to address the diversified needs of its customers and the demands of the industry".