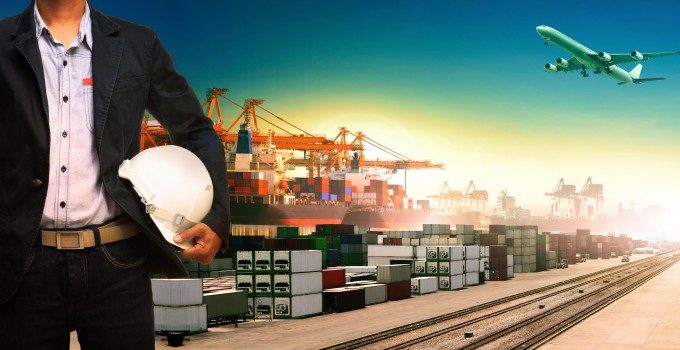 Monday marks the closing date for applications for the post of the new CEO of Dube Tradeport, with the advert stating the pre-requisite of "executive leadership attributes expected of a top-quality CEO".
It's not surprising that Durban's air cargo terminal is specifying a high-calibre head. For those readers who haven't yet been acquainted with the whole troubled story of Dube Tradeport's former CEO, The Loadstar has put together the twists and turns of a tale of alleged corruption, which has cast a shadow over Durban's attempt to boost the economy of KwaZulu Natal through logistics and trade.
But we should begin at the beginning. Dube Tradeport, the cargo terminal at Durban's new King Shaka International Airport, opened in May 2010, with state-of-the-art facilities and government investment. Based in one of South Africa's key manufacturing centres, the flagship airport aims to lure traffic that is currently trucked from the area to Johannesburg, and to encourage forwarders and shippers to relocate to the region. It has also established an 'agri-zone', creating a cluster of facilities and services to stimulate the perishables sector – in an initiative that could have come straight out of Schiphol.
In 2009, Dube Tradeport's Board (DTPB) embarked on a public procurement process for a ground handler to operate the terminal, but received just one local bid, deemed by the board to be 'unsuitable'. After talks with three other companies, DTPB concluded negotiations with Worldwide Flight Services for a five-year management and operations agreement. One year into the contract, WFS requested it be represented by its franchise partner, WFS-SA, headed and owned by Alex McRoberts. And that is when the trouble began.
According to The Mercury newspaper, in April this year Rohan Persad, CEO of Dube Tradeport, accused Mr McRobert's company in an email of stealing equipment and defrauding it through misrepresentation. Relations between the two were said to have became 'unbearable', forcing Mr Persad to terminate the five-year contract. New local managing director of WFS-SA, Thuthuka Mbongwe, accused Mr Persad of taking over the running of the terminal and of refusing him access to his own office, and took the matter to the high court to be resolved. Mr Persad made a counter application, but the two companies reached a confidential settlement out of court in May, which ended WFS-SA's involvement.
But in July, the story took another twist when South Africa's Sunday Tribune alleged that Mr McRoberts had, before the court case, colluded with Mr Persad in an attempt to pass on to him a 40% share in WFS-SA. Mr Persad, in exchange, said the story, would help WFS-SA obtain more contracts at the airport, thus growing the company.
According to the newspaper, which claimed to have spoken with Mr McRoberts, who was eager to rebuff the accusations of fraud noted in the court documents, the plan was to sell a bigger and more profitable WFS-SA, worth by then some $4.5 million, to an unsuspecting WFS Global.
In an email to Mr Persad that the newspaper published, Mr McRoberts was alleged to have written: "It would make complete sense to me that you allow me to tender for this work and you ensure that we're awarded the tender somehow. It can only benefit your 40 percent which in turn boosts the saleable value of WFS-SA.
"Just for your information with the recent WFS-SA results, goodwill, the potential growth and value of the contract with DTP, the current value… put(s) WFS-SA at €4m. This is why we have to look at growth quickly over the next two years and add to this evaluation. 40 percent of those numbers is quite considerable."
The Sunday Tribune also reported that Mr Persad had allegedly been taking kickbacks from Mr McRoberts, including flights and hotels for his wife. The newspaper revealed Mr McRoberts had a paper trail of documents relating to kickbacks. However, just a month after speaking to the paper, Mr McRoberts denied the story.
When the allegations of corruption were made in July, Dube Tradeport immediately put Mr Persad on a 'cautionary suspension' and appointed PwC to investigate. Mr Persad resigned in August, swiftly followed by Ahmed Bassa, executive aeronautical, who left for "newer opportunities".
DTPB stated: "The Board of the DTP was not aware of the allegations made by Mr Alex Roberts [sic] against the person of the CEO of the DTP. At no point did Mr Roberts alert the board of these, neither did he follow the necessary procedures to ensure that he is given the audience which he now seeks through the media."
There are numerous other fascinating little details to a larger story – links to other contracted companies, and the issue of a close associate of Mr Persad, a council member of KwaZulu Natal's economic development and tourism, receiving R100,000 in cash for bail when charged with racketeering.
Dube Tradeport itself, which is trying to move on from the scandal, has hit back at the newspaper which revealed the allegations. Writing in an open letter to the Tribune, and published on Dube's website, Dr Bridgette Gasa, chairperson of Dube Tradeport Corporation Board, wrote: "Is your newspaper's response not somewhat disproportionate, and hugely one-sided – not to mention insulting to the integrity of what is without question a huge economic success and a major contributor to economic growth and development in KwaZulu Natal? …
"Rather than explore the "other side" of impropriety, the Tribune continues to act as if the only trace of wrongdoing vests in DTPC. It applies a blanket of self-righteous condemnation to the reputation of every single one of the corporation's employees, it questions the integrity of the very board which has acted decisively on allegations, and it attempts to drum up public pressure on the organisation to review every single contract which it has signed – without even a hint of evidence to substantiate this.
"Let us state this very clearly: there is no suspicion of any impropriety involving the current management of DTPC. There is no ongoing investigation into their daily activities. There is no reason to suspect that there is wrongdoing beyond what has been reported in the media in the past few weeks, acted upon and dealt with."
WFS Global also emphasised its distance from the case to the Sunday Tribune. Its lawyer issued a statement saying: "Other than being authorised to utilise the name 'Worldwide Flight Services', Worldwide Flight Services SA (Pty) Ltd is separate and distinct from our client and is not owned nor managed by our client or any of its subsidiaries. Mr Alex McRoberts is not, nor has he ever been, employed by our client or any of its subsidiaries and our client has no knowledge of any of the allegations levelled against Mr McRoberts."
Despite both Dube Tradeport and WFS Global wanting the story to disappear as soon as possible, it may be unlikely. The Board, according to the newspaper, is legally obliged to level criminal charges, in accordance with the Prevention and Combating of Corrupt Activities Act, if the amount of any alleged corruption is greater than $11,300.  The office of the public protector is also said to be investigating the claims. Mr McRoberts, a UK citizen, if suspected of any wrongdoing, could be prosecuted under the UK Bribery Act, which allows citizens to be prosecuted for crimes committed abroad. The Loadstar has been unable to contact either Mr Persad and Mr McRoberts, but welcomes them to refute the allegations.
In the meantime, there is a job going at Dube Tradeport. Only those with "executive leadership attributes" need apply.