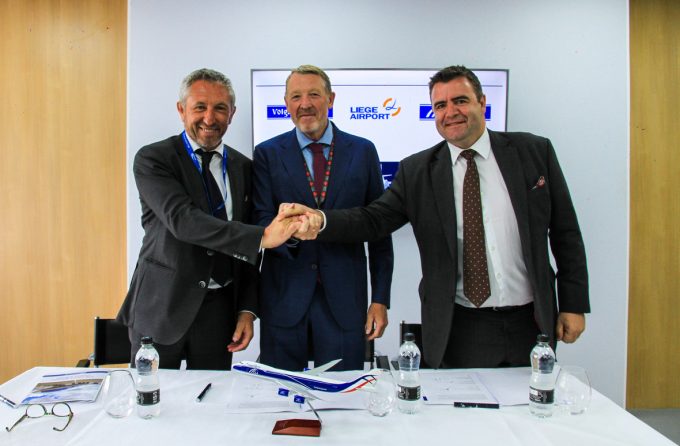 It's a week of big announcements for Volga-Dnepr Group (VDG). Today's instalment is that it plans, with sister carrier CargoLogicAir (CLA), to establish a new regional hub at Liege in Belgium.
Liege helped out Volga-Dnepr subsidiary AirBridgeCargo (ABC) in October when it lost slots at Schiphol. And in February, it was reported that the group was looking for a new European hub and had written to some 13 airports.
It said today it had "inked" an MoU on strategic cooperation with Liege, "with the aim to strengthen their positions in the European market through development of a regional hub and enhancement of freighter capacity".
It added that it would spend the next "three to five years" setting up the hub for the group's airlines and operate some 30 cargo flights a week, which will be supported by maintenance facilities at the airport.
The group said: "Liege Airport will support [VDG and CLA] in opening up new routes and establishing the communication channel with competent government authorities for smooth operations, both with other airports in Europe, as well as worldwide.
"On top of this, Liege Airport will provide VDG and CLA with sufficient ground handling, warehousing and office areas for smooth coordination and operation of freighter flights."
It is as yet unclear what this may mean for Leipzig Airport, where Volga-Dnepr has maintenance facilities as well as new company Value Cargo Logistics, which was applying for a German AOC. ABC still has a handful of senior jobs advertised at Leipzig.
David Kerr, CEO of Cargologicair, said: "The development of a European hub in Liege will support our existing network and boost our cargo services, covering major catchment areas of Europe for the convenience of our customers. We will be able to guarantee high-end services based on reliable partnership with Liege airport, which is not only one of the most cargo-friendly airports, but also shows significant steps of development in air cargo handling – the area of paramount importance for carriers which aim for quality, speed and safety."
The AirBridgeCargo hub will add 23,000 sq metres of first line warehouse, 4,000 sq metres of offices and additional capacity of approximately 300,000 tonnes at Liege.
Liege has also been picked as the hub for ACE Freighters Belgium, a new European carrier born from Israel's CAL Cargo Airlines.