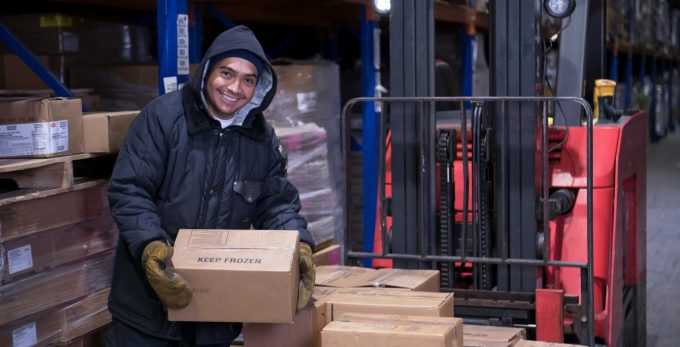 Driven by the rampant growth in e-commerce, forwarders have been scrambling for warehouse space, steadily driving up rents.
Lately there have been indications of the momentum shifting down a notch or two, as in other hot sectors like trucking – but the US's largest provider of temperature-controlled warehousing, Americold, raised some eyebrows when its Q2 results showed a massive 83.3% drop in net income, to $4.9m,
Net income for the first half of the year amounted to $262,000, or zero cents per share, down from $20.7m (13 cents a share) the year before.
However, management has shrugged this off, insisting it is not a primary metric for real estate investment trusts. Funds from operations (FFOs) are a more relevant yardstick, it argues. Also, the firm made two sizeable acquisitions.
On that scale, the second quarter does look brighter for Americold: FFO climbed from $43.1m a year ago to $56m, and core ebitda reached $93.6m, up from $73.6m, while revenue grew 11.1% to almost $438.5m.
The warehousing market is showing signs of slowing down, as trucking and air cargo are losing momentum, and a further cooling off is widely expected as more facilities come on stream.
According to Transwestern's latest national industrial report, more than three million square feet of new warehouse space is in the pipeline in the US, more than double the rate of five years ago. And after nine years of demand outstripping supply, it looks like demand is going to fall behind capacity growth.
Deloitte's Industrial Real Estate Outlook 2019 projects demand to slow to 0.9% over the next five years.
However, the dynamics in temperature-controlled warehousing differ markedly from the general warehouse scene. With significant entry barriers, the higher cost of facility development and the importance of customer relationships, the field is much less crowded and the outlook more upbeat.
"As we look ahead, the supply and demand dynamics within our industry remain consistent and favourable to Americold," said Fred Boehler, president and CEO of Americold Realty Trust.
"We expect demand to rise steadily with population and corresponding consumption growth. In addition, the ongoing shift in consumer preferences towards healthy perishable food increases the demand for temperature-controlled infrastructure. We believe these fundamentals are sustainable over the long term," he added.
The near-term outlook for the US market looks bright. According to CBRE, the world's largest commercial real estate services and investment firm, the US market will need 100 million sq ft of additional temperature-controlled storage over the next five years, and Deloitte predicts that the total market for cold storage is going to hit $212bn by 2025. Its analysts expect capacity to grow 1% a year through to 2023.
Americold strengthened its presence in the market this year with two acquisitions worth a combined $1.3bn, taking over Cloverleaf Cold Storage and Lanier Cold Storage, which added a total of 23 facilities to its footprint. The company now owns and operates 178 sites around the world with over a billion cubic feet of storage space. Management has attributed the lower net result in the second quarter largely to these acquisitions.
And Americold recently broke ground on an expansion project in Atlanta and a new facility in Savannah, while three expansion projects in the Cloverleaf portfolio are moving forward.
Much has been made of the projected rapid growth of online food orders delivered to consumers, but Boehler sees no significant impact from this on Americold's business.
"E-commerce is another distribution method. It's not incremental consumption," he said, adding he is more interested in international expansion in "what we would call good, stable countries that we believe add benefit to our overall portfolio".
Also, so far, trade conflicts have not had a material impact on the company's business, according to Marc Jason Smernoff, CFO and executive vice-president of Americold.