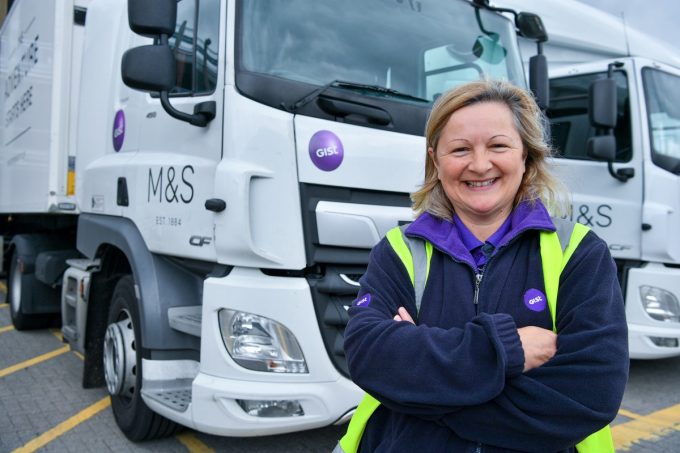 Food logistics company Gist has started to train its own HGV drivers in the UK, launching an accredited training and testing centre in Spalding, Lincolnshire.
Shortages of HGV drivers have been seen the world over, adding to the supply chain congestion and delays, and nowhere has the impact been felt more than in the UK.
With an estimated 100,000 drivers needed over the country, wages are on the way up, but there remains a need for new drivers to be trained and Gist has decided to take matters into its own hands.
The company says prospective HGV drivers can now be trained and sit their Class C+E driving test by applying directly to Gist at its test centre.
It is "actively recruiting up to 80 eligible Class C drivers and provisional HGV licence holders to be trained and examined". The firm added: "These drivers will gain their HGV Class C+E licence and will be driving for Gist in time for the busy peak Christmas trading period."
­­The company expects its training programme to deliver up to 300 qualified HGV drivers each year.
As aa recruitment incentive, Gist said drivers would receive competitive rates of pay from the start of their employment, and the company will fund the training costs and fees associated with obtaining the relevant licences, as well as travel and accommodation – an overall cost of £3,000 per trainee driver.
Gist added: "Successful applicants will also benefit from Gist's sign-on and retention bonuses, worth up to £5,000, payable over their first 15 months of employment."
CEO Michael Chambers said the government's recent intervention on short-term driver visas was welcome, but added: "It is not a long-term solution. Training and developing home-grown drivers is the most sustainable way out of a crisis likely to be with us for some time."
While Gist's and other training programmes are welcome, the container haulage industry in particular faces becoming the "driver crisis focal point", as more and more hauliers quit servicing the sector for "over-inflated" supermarket opportunities. Gist handles goods for supermarkets.
And truckers that have been abandoning container work in increasing numbers are telling The Loadstar they have "no intention" of returning to the sector. One owner operator said: "Box trailer work is now more than twice as profitable than containers, and we don't face issues of port delays.
"We've some container contracts we are obliged to fulfil, but it's minimal, and we are focusing on linehaul, parcels and bread deliveries."
Sources say container work can generate £420 ($566) per box, but with driver costs of £320, fuel at £220 and additional truck costs of £120, a two-container load netts just £180 a day. Conversely, bread runs alone nett some £600 each way, with parcel reloads a "frequent" occurrence. And trailer swaps can generate as much as 20% more than bread runs and work for e-commerce businesses could generate £500-£600.
"That is high margin work," said one driver. "It may disappear overnight, but I am beginning to doubt that, as the pandemic has accelerated slower changes already happening.
"The way the country runs has been upended; online shopping is now the main retail experience and that market is still growing. Small contractors like myself have the flexibility to fill the gaps this high-functioning system offers."
However, the owner of another independent haulage firm challenged this suggestion, telling The Loadstar: "Container rates have increased by 10-15% since July to help offset the driver wage increases we are seeing, and I don't agree with suggestions that container work only nets half of what you get elsewhere.
"I think the numbers offered really depend on two things – work patterns and the customers you are serving. I would also say it would be daft to compare the present over-inflated supermarket traction runs that are gobbling up drivers, if you do, you are not comparing apples with apples. That business won't be there after December."
But the owner operator said they did not see "wages returning to the pittances they were", adding: "Which is good, and if anything good has come from this whole driver crisis fiasco, it is that it has been realised by the public what an important role truckers play in the life and the success of the country."