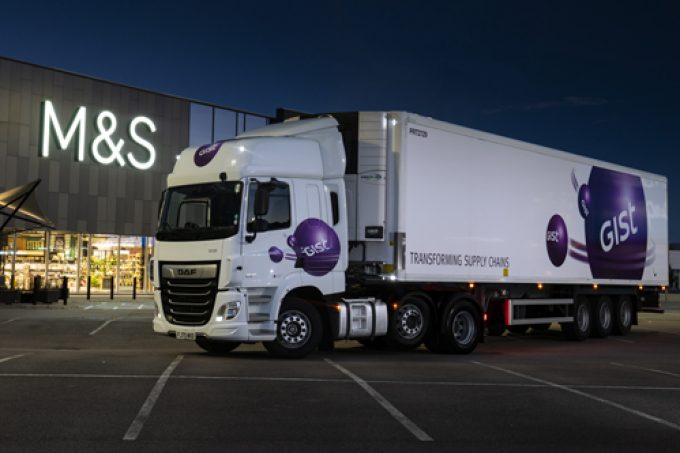 Years of speculation over the ownership of UK cold chain transport and distribution provider Gist have been resolved: chief customer Marks & Spencer has agreed to acquire it for £145m ($175m) in cash, with an additional £110m to be paid later.
The price tag is well below the rumoured £725m China's HNA Group was reported to have earmarked to ink a deal in mid-2018, before its talks with Gist owner German chemicals giant Linde collapsed.
Linde had reportedly put Gist on the block as far back as 2015, with Morgan Stanley hired to find a buyer, but following HNA's financial struggles, Linde revealed in its 2018 interim results that "sales negotiations with potential buyers were abandoned in the second quarter of 2018 and thus a sale is no longer deemed to be highly probable".
Now, however, Gist will be incorporated into the M&S Food division as the group looks to restructure its supply chain by taking its principal logistics supplier in-house.
"M&S has been tied to a higher cost legacy contract, limiting both our incentive to invest and our growth," explained Stuart Machin, M&S Group CEO. "The past two years have shown what can be achieved by working collaboratively alongside our partners at Gist.
"This has given me confidence that now is the time to take action and remove an impediment to our growth. We have therefore acted decisively to acquire Gist, taking control of our food supply chain for the first time in our history.
"This is the first step in a multi-year plan, which will transform the entire supply chain," he added.
Gist provides the majority of M&S Food's logistics services via a network of eight primary and 10 secondary distribution centres across the UK and the Republic of Ireland, and has a "legacy" contract which expires in 2027.
As a result, its acquisition will generate immediate benefits for M&S through the elimination of contractual fees and costs, and "the implementation of aligned operational processes.
The firm said: "Through acquiring Gist, M&S can also take control of, and invest in, the network, building on the successful implementation of the Vangarde supply chain optimisation programme.
"There is a substantial opportunity to create a more efficient and effective supply chain through investment in the network to reduce the cost to serve, update legacy systems and improve automation."
Under the terms of the deal, M&S is paying an £145m in cash for a company that had gross assets of approximately £305.7m as of 31 December 2021 – which includes £51.4m of cash not being acquired by M&S as part of the transaction – and generated a proforma ebitda of £55m last year, most of which came from management fees charged to M&S.
However, Gist owns a number of the warehouses it operates under a freehold basis, and M&S will pay a further £85m plus interest, "in cash from the proceeds of the intended onward disposal of freehold properties", with "an additional profit share from the disposal proceeds of up to £25m plus interest will be payable under certain conditions".
Completion is expected to take place in the second half of this year, and in a short statement Gist management added: "While the ownership of Gist will change, Gist will retain its identity and continue to operate as a separate business."
It has a headcount of around 5,800, and CEO Michael Chambers is expected to continue leading the business and report to M&S Food's commercial director, recently appointed Paul Friston.
In addition to the M&S Food contract, Gist also provides "a limited number of logistics services for third parties, as well as freight forwarding for BOC", the UK subsidiary of Linde.
It was also the cool & special cargo category winner in the 2020 BIFA Freight Service awards.