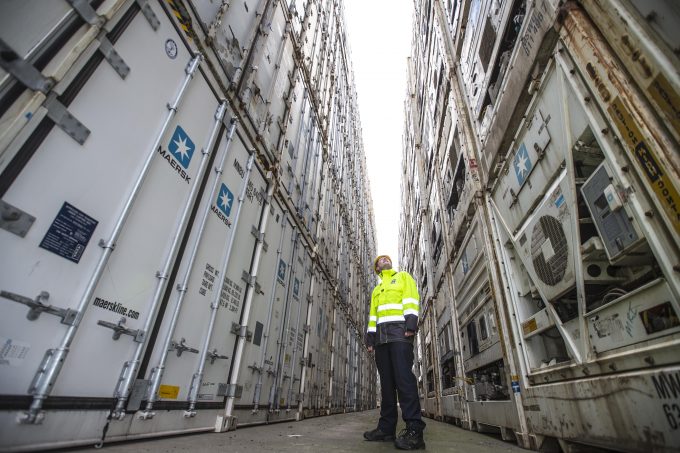 A new player is poised to bring the digital forwarder model to the perishables sector – with a little help from other start-ups.
Chicago-based Transship has teamed up with a trucking provider, a tech partner for global tracking and TradeLens for managing marine transport, and the group is set to commence trials next month to ship out US food exports.
Transship founder and chief executive Amit Hasak previously ran cold storage facilities in Chicago, where he experienced a litany of frustrations vented by his clients (mostly exporters of perishables) about forwarders' services. This led him to conclude the business was ripe for automation.
"This is an industry that has been neglected technologically for a long time," he said. "Flexport kind of paved the way for this, but it deals with general cargo. We have a speciality – we handle special shipments."
Originally he planned to develop the technology in-house, but decided it would be more fruitful to team up with existing platforms in strategic partnerships, where they provide the service and benefit from the revenue generated by Transship.
This led to the announcement of partnerships with three tech-based firms in the logistics arena in December. The alliance comprises: Future Tech Transport, an asset-based trucking and drayage operator with an automated brokerage platform; Ceres Technologies, to look after real-time tracking; and TradeLens, the blockchain-based joint venture for container shipping launched by Maersk and IBM.
"We want to provide real-time tracking like UPS, but we also want to know about temperature and humidity," Mr Hasak said. "If you ship meat to China, that's a six-week journey. A reefer may stop working for a week and then somehow start again, so when the shipment arrives at the port, it's frozen and everything seems to be okay, but the tracking tells you there's a problem. You don't have to wait to find out that the shipment is spoilt."
As for TradeLens, first and foremost this brought in the technology to handle ocean shipments. "The blockchain is not for smart contracts but for documents. Documents get lost or damaged, and then the shipper incurs cost for storage until that's sorted out," Mr Hasak said.
He claimed the Transship-led venture would vastly reduce the time shippers have to spend to book a shipment.
"When shippers upload information to our site, it shouldn't take more than 15-20 minutes to give them a quote. The whole process to get a shipment organised should take 15-25 minutes, not four or five days," he said. Moreover, shippers face lower costs, as Transship's margins were lower, ranging from 3-5%, he said.
Mr Hasak is planning a membership scheme for regular users who get discounts based on the average monthly number of containers shipped. A large US meat shipper participating in the pilot project pays about 3%, a non-member will pay 5%.
Mr Hasak intends to further leverage the volume of Transship to negotiate lower rates with shipping lines to obtain better pricing for SME customers, who will likely be the largest user group of the service.
He acknowledged that scepticism about automated solutions in this sector is high, but he was encouraged by the market response to the project. Cold calls to companies yielded six letters of intent, including one from a large meat exporter who is participating in the pilot scheme.
"There's no reason why a company like this should even take my call, if we're a start-up. This shows to me there's interest in our solution," he said. "I think we hit a nerve there."
Transship is in the process of obtaining its NVOCC licence. Otherwise, everything is in place for the start of the operation.
For the pilot programme, initially the scope will be limited to traffic between the US and Latin America, possibly including some shipments to Europe if participating clients have traffic there, Mr Hasak said. Asia is not currently in the picture.
"We want to focus on certain lanes and make sure we're really good on those before we expand. In the long term, we want to cover Asia as well."
The current focus is also firmly on maritime transport, air cargo is not on the cards at this stage.
"We're going to have our hands full," Mr Hasak said. "Airfreight is complicated."
He is open to other technology providers that have interesting applications to come on board, and the partnerships with Tradelens, Future Tech and Ceres Technologies were not exclusive, he added.