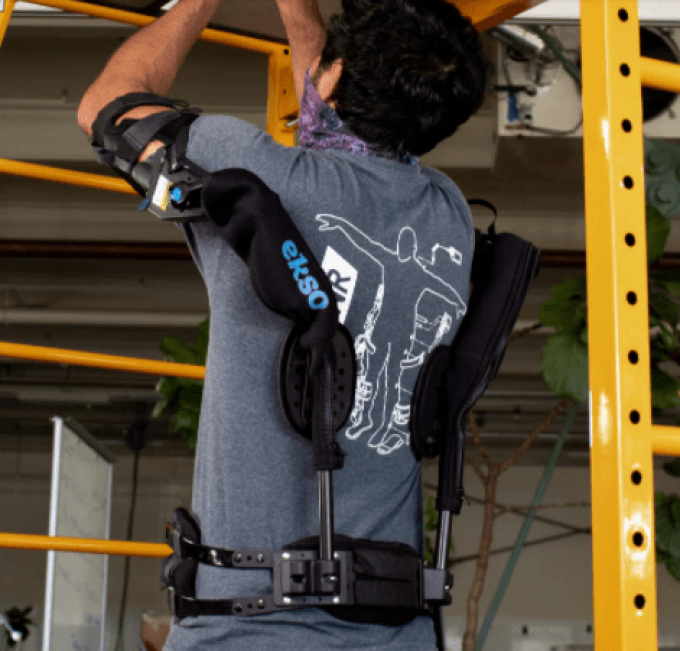 During TIACA's Innovation days in Silicon Valley last month, organised by Matchlabn, senior delegates from across the air cargo industry met a wide variety of start-ups. The Loadstar is publishing a series of short articles looking at new technologies potentially suitable for the industry.
Ekso Bionics:founded 2002 – wearable bionic exoskeleton.
Ground handlers and warehouse operators could reduce workplace injuries by offering workers exoskeletons, developed by Ekso Bionics. Founded in 2002, the company now has about 60 customers, including Ford and Boeing.
The exoskeletons give workers greater power and control during lifting, protecting against back problems and other muscle strains. Between 5% and 20% of a handlers' workforce can be off sick – either with illness or injuries – at any one time.
Ekso warned that the exoskeleton should not be used for trying to move heavier loads, but instead could reduce fatigue and soreness from normal lifting, while users said it also resulted in a better quality of life.
It is currently used in the construction, aerospace, automotive and mining industries – but is not suitable for all sectors. For example, a trial was held with a refuelling company, where the refuellers wore an exoskeleton while handling heavy hoses over long distances. But, as the weight was over the shoulder rather than straining the back, the device didn't help.
US handlers and warehouses are likely to enjoy the greatest financial benefits from the use of exoskeletons. As employers paying for healthcare, insurance claims could come down, with overall costs potentially falling significantly.
However, there were some concerns about the bulkiness of the device. Crawling into, say, the belly of an A320, means staff must be free of impediments which can damage either them or the aircraft. If Ekso could develop it as part of, and under, a high-vis jacket, handlers said it could be revolutionary.
"It should be a requirement for all airports, mandated by local governments perhaps, as part of the uniform," said one delegate attending the TIACA Innovation day in San Francisco.
In the (much) longer-term, airport workers may find their jobs more automated anyway, but not too soon.
"Robotics is a long way off and too expensive to be scaleable. The tech is not quite there, but it might have a use for something like the larger Natilus drones, maybe," said one delegate.
Use case: handling workforce
Cost: $5,000 per unit
Pros: lower insurance costs, fewer injuries
Cons: currently too bulky