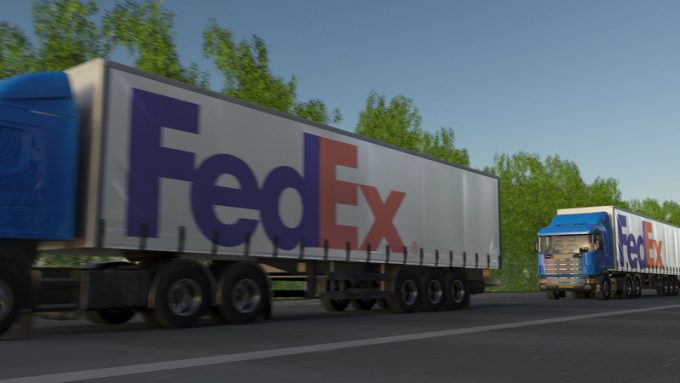 Capacity problems have become a fact of life for shippers, but few had as little time to deal with a shortfall as those companies that were informed by FedEx Freight on Friday, 11 June that the LTL firm would stop picking up their shipments the following Monday.
FedEx Freight was trimming business to cope with surging volumes and decided to cut out some large shippers for the sake of retaining more lucrative traffic.
Michael Johnson, executive vice-president of strategy at Redwood Logistics, noted that trucking as well as parcel delivery firms have attempted to manage capacity by getting rid of lower-yield volumes. For the most part this has happened through jacking up rates or slapping on hefty surcharges – something that shippers are painfully familiar with.
"Typically, what we see in the market is carriers will use price inflation as a means to act as a release valve," he said.
According to JP Wiggins, vice-president of logistics at TMS (transport management systems) provider 3Gtms, the experience of those FedEx Freight customers has not been unique. Regional carriers have also dumped clients to manage their capacity, he said.
Other modes, such as the parcel sector, are showing the same picture of operators trying to weed out lower-yielding traffic, he noted, adding: "This is something we're going to see more and more of."
This situation forces shippers to make sure they can shift their traffic to another provider at short notice if needs be.
"Shippers and 3PLs need to think dynamically and explore all options," Mr Wiggins urged.
Shippers affected by the FedEx move who had large volumes going to certain destinations shifted these to truckload carriers. From six pallets upwards this makes sense, he said.
Other options to explore should be multi-stop arrangements and pool distribution, where a truckload carrier moves a larger consignment to the facility of a regional operator, who takes care of distribution.
Truckers are not keen on putting more than three or four stops on a route, Mr Wiggins remarked. Going for pool distribution requires an optimisation engine that shows which carriers accept freight at which terminals.
Given his perch, it is not surprising that he sees a prominent part for technology to play in shippers' endeavours to secure alternative capacity.
"Modern TMS systems can dynamically calculate and manage mode shift and optimise this problem today. Having your TMS rate shopping for all available carriers is a must-have," he stated.
"If FedEx is off the network, what's your next best bet? You can use dynamic pricing to identify alternative carriers," he said.
Using technology to find carriers with networks and pricing that match a shipper's requirements is a viable solution, but it does not secure capacity, observed Satish Jindel, president of SJ Consulting. As for dynamic pricing, this only works with carriers that have extra capacity, he remarked.
At this point the LTL industry in the US is a long way from dynamic pricing, as it still uses the arcane matrix of ZIP codes, product classifications and weight categories. Mr Wiggins reckons that carriers' needs to manage capacity through pricing will help pave the way for this to change.
"I see dynamic pricing becoming a very normal process in LTL in the near future," he said.
Using a TMS for capacity visibility in real time will establish itself in the industry, but it has some way to go, Mr Johnson reflected. "We're in the early innings of that. It will be a requirement to grow business, but now it's too early for that," he said.
TMSs have been likened to Swiss army knives, offering a broad array of functions but lacking in depth. This has changed in recent years, though, Mr Johnson said. Rather than try to offer everything themselves, modern TMSs are adopting existing technologies from other vendors onto their platforms.
3PLs, which make up half of 3Gtsm's business, tend to go for the full package of a TMS, but shippers are increasingly looking for a particular piece of functionality to deal with a specific problem, Mr Wiggins said. Modern TMSs are more modular as well as cloud-based and easy to implement, which means they can be turned on and off as needed.
Shippers don't have to invest in TMS solutions; they can simply get the technology from their 3PL providers, he added.
Some shippers may be interested in an element from the TMS menu that has not been on their agenda so far. As a growing number of firms are moving to get their own trucks to secure capacity, they may want to use a TMS to broker their excess capacity, Mr Wiggins suggested.