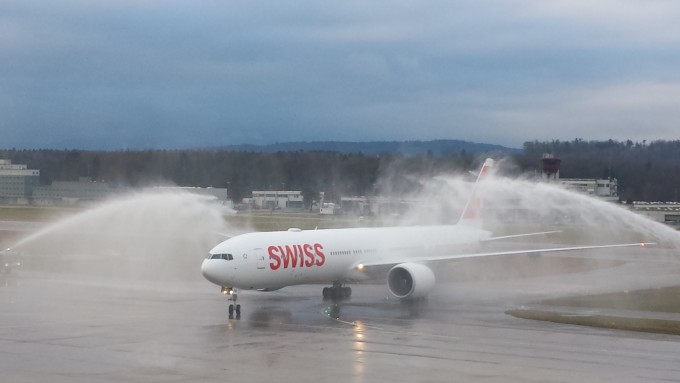 Swiss International Air Lines has rather unusual plans for Airbus 321 aircraft, according to reports.
With Boeing and Airbus orderbooks bulging with back orders for narrowbodies – aircraft of the B737 and A320 families dominate the market by sheer numbers –but they all usually end up in short- to medium-range sectors.
Swiss, on the other hand, is mulling the possibility of flying A321s from its base in Zurich to destinations in Africa.
The A321-neo version that Airbus launched two years ago has a range of 4,000 nautical miles, which allows flights from western Europe to the US east coast.
Actually, Swiss is not out on a limb: according to unconfirmed reports, Air Canada is looking to field the B737MAX on routes between Canada and Europe; IAG is planning to use A321s on some sectors across the Atlantic; and Norwegian Air Shuttle has also signalled plans to fly A321LRs on transatlantic sectors.
In terms of cargo capacity, these aircraft would offer hardly any lift. Unlike the 737MAX, the A321 can at least accommodate ULDs, but its payload capability would be severely restricted by the stage length and the amount of passengers and luggage on board. Hence, the rise of direct flights between smaller cities could affect cargo capacity on international sectors.
However, freighter providers rubbing their hands in gleeful anticipation of a new arena for their aircraft to make up for virtually non-existent belly capacity are in for a disappointment, reckons Stan Wraight, president of Strategic Aviation Solutions International.
According to him, the deployment of narrowbodies on longhaul sectors is not going to reduce cargo capacity. Rather than replace widebodies carrying larger loads between bigger markets, the smaller planes are going to be used primarily to open up new markets, he argued.
"I consider them route builders rather than large plane destroyers," he said.
According to him, the main focus of fielding narrowbodies on longer sectors is going to be strengthening airlines' hubs by adding new spokes, not creating more point-to-point connections.
With their seat capacity, A321neo and 737MAX planes are perfect to open new routes, Mr Wraight said.
"No one says they are going to fly A321s to Lagos. There are a number of African cities where a 180-200 seater is just right. And you can use them to build up traffic to bring in a widebody like an A330 or a 767 or 777 later."
Notwithstanding their limitations, he sees a role for these narrowbodies in the cargo arena, especially in the high growth segments of the business.
"Of course, there is the payload-range discussion, but the neo should address that," he said. "E-commerce is volumetric. It's perfect for these aircraft. Mail is volumetric. That's perfect. And verticals that carry a high premium like pharmaceuticals fit well too.
"Of course, you are not going to carry Kuehne + Nagel's consolidation traffic on an A321, but for small, light shipments, they work well."
It all hinges on the airline and its ability to utilise its assets, he thinks.
"If an airline has the proper product portfolio, focusing on high-value verticals, there is no reason why its narrowbody aircraft can't be optimised for cargo," he said