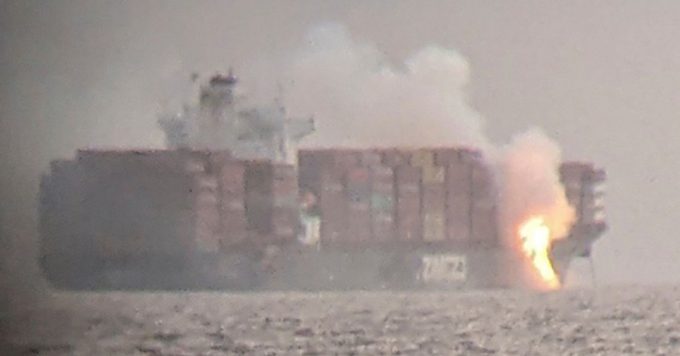 Danaos-owned Zim-chartered vessel Zim Kingston, which lost 109 containers amid a cargo fire off the coast of Vancouver in October, is set to leave its mooring on Constance Bank, near Vancouver Island, tomorrow.
It will be heading for the port of Nanaimo, on Vancouver Island's east shore, where discharge of the undamaged cargo will reportedly take place. But neither Zim or Danaos responded to questions from The Loadstar regarding its onward delivery.
However, casualty support company WK Webster said Zim Kingston would only discharge damaged containers on Vancouver Island, before the ship headed to the port of Vancouver to unload the remaining cargo. No confirmation of this plan has been received from either Zim or Danaos.
The 4,253 teu Zim Kingston was hit by a storm off Vancouver Island on 22 October, dislodging container stacks which damaged other boxes as they fell, according to the owner's spokesperson. This led to a fire on board, caused by the contact of water with chemicals in damaged containers.
General Average was declared on 1 November, and shippers have been awaiting news of the next move for the vessel for some weeks.