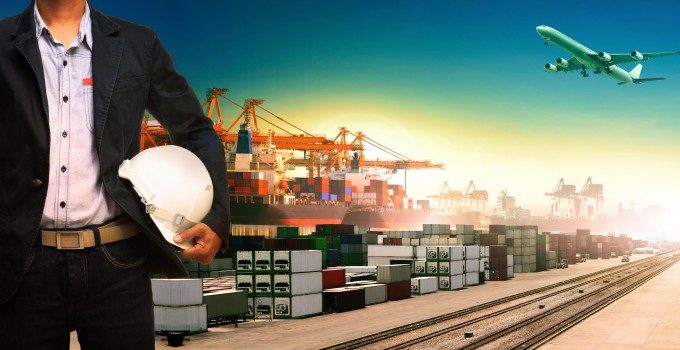 For those wondering how Ceva's new shipping line shareholder, CMA CGM, will impact its offering, some light was shed in its first-half results presentation. 
Cross-selling will "accelerate Ceva's transformation", as will strengthening key account relations and increasing "share of wallet", said the company. 
Ceva also plans to add more SME customers, develop value-add segments such as cold chain logistics and LCL, as well as put more focus on e-commerce and retail and fast-growing sectors such as Asia, the Middle East and Africa. 
Since CMA CGM took on the forwarder, its daily cash burn has fallen from $1m, to less than $200,000, according to Loadstar Premium's adjusted free cash flow calculations.  
It has also re-focused on ditching non-performing contracts, which saw its contract logistics half-year revenues fall 9.2% to $1.8bn, and down 9.6% in the second quarter.
But its contract logistics ebitda (before specific items, mostly related to refinancing) fell from $77m to $53m in H1. The company blamed the revenue fall on the loss of a major, but low-margin supply chain service contract in North America, as well as "a few" in automotive, and unplanned factory shutdowns that impacted major automotive contracts in Europe. 
Freight management revenues grew 3.5% to $1.7bn in the first half, and grew 7.5% in the second quarter, while ebitda fell from $42m to $32m. 
Total revenues fell 3.4% to $3.5bn in the first half, while, overall, the forwarder narrowed its first-half reported losses, to $70m from $112m a year earlier. Net debt more than halved. 
Ceva has certainly not been immune to the weak air freight (and automotive) market, which saw air volumes fall some 10.8%, while the average shipment size fell. First-half air revenues fell 9% to $637m. Yields, however, rose.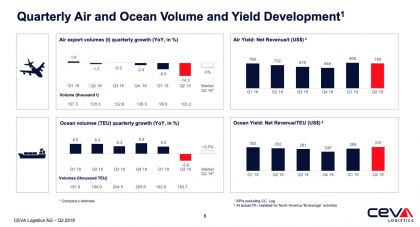 In ocean, volumes were flat at 377,000 teu, "due to a major retail customer loss during Q2, whilst yields were stable, notably driven by LCL activity". Ocean revenue, however, grew 7.9% to $543m. 
Ceva is slowly but surely being taken over by CMA CGM. It unveiled its new brand identity this month, after opening a new operations centre in Marseilles, next to the shipping line's HQ. And Ceva's management has been "reinforced with some of CMA CGM's highly experienced turnaround managers". 
The company said: "Through a collaborative approach with customers, the objective is to unite the strengths of both Ceva and CMA CGM, develop a full understanding of the customer supply chain, use the most up-to-date technologies and best practices to optimise services and cost in storage and transportation, as well as create responsive and tailor-made solutions for all customers." 
New chief executive Nicolas Sartini added: "Ceva went through significant and structural changes in the first half of 2019 against a challenging macroeconomic backdrop. We are currently focusing on the turnaround of the company through deep operational changes and on achieving positive free cash flow as early as the fourth quarter 2019." 
You can see the investor presentation here, and the results here.