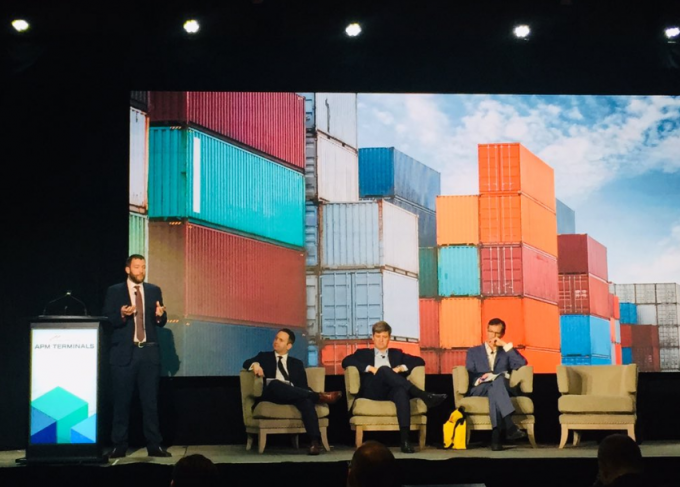 The implications for carriers and BCOs of the IMO low-sulphur regulations that come into force in less than 10 months have dominated this week's JOC TPM Conference in Long Beach
Normally the annual event, this is the 19th, marks the start of annual contract rate negotiations on the transpacific, but this year the spectre of IMO 2020, and  how the greener fuel is to be paid for, has overshadowed all other topics.
Shippers have admitted to not trusting the carriers, which know they must recover these costs, which could add up to $15bn a year for the industry.
However, during a conference session yesterday, Neil Glynn, research analyst at Credit Suisse European Transport, said he was not optimistic that container lines could achieve this.
"Historical data does not give an awful lot of confidence that the carriers will be able to pass on the extra fuel costs," he said.
However, on the same panel, Uffe Ostergaard, Hapag-Lloyd's president for North America, said, given the magnitude of the additional cost of low-sulphue fuel oil (LSFO), any carrier that decided not to recover the costs in order to grab market share, would be looking at a "short-lived venture".
And, during a later panel discussion, George Goldman, president of Zim USA agreed carriers would be "stupid" if they did not pass on the increased cost of fuel to their customers.
Nevertheless, he admitted, it would not be easy to convince shippers that they had to pay new BAFs. It would be a "challenge to sit down and have an honest dialogue with shippers" on IMO 2020-related surcharges.
Mr Goldman said every new Zim contract on the transpacific would have a floating BAF, separate to the freight.
"By and large, the small guys will accept our BAF formulae, but the bigger guys might try and impose their own," he said.
Meanwhile, on the sidelines of TPM, The Loadstar spoke to several BCOs who said they were "still confused" about the new BAFs, some complaining the surcharges had not been properly explained.
And one shipper said: "I still don't trust the carriers. I can remember many occasions when they have tried to impose surcharges in the past without any justification.
"And we are still recovering from the demurrage and detention charges that they hit us with at Long Beach last month, due to port congestion, and we think that this was just an easy revenue earner for the carriers," she added.
Seabury Maritime has launched a white paper on the topic. Vice president Nikos Petrakakos said: "The 2020 deadline to reduce sulphur oxide emissions is one of the most significant regulations impacting liner shipping in recent memory.
"With fuel costs already representing more than 50% of operating expenses, the IMO 2020 poses an increase too significant for carriers to absorb and stay operational."
According to Seabury Maritime's analysis, today's cost of approximately $1,600 to ship a container from China to the USEC, will rise by $600 after the IMO 2020 regulation is in place.
"Shippers should be prepared to share in the risk of changing fuel prices through the assessment of reasonable and transparent fuel-surcharge calculations."
The white paper noted that the lack of industry standard for fuel surcharge computation, or a clear picture of the underlying costs for low-sulphur fuel, allows participants to only roughly estimate its economic impact. Several factors affecting a carrier's calculation of the fuel surcharges add complexity, making transparency  paramount to building trust on both sides, it added.
The Loadstar's coverage of TPM 2019 is sponsored by Kontainers.