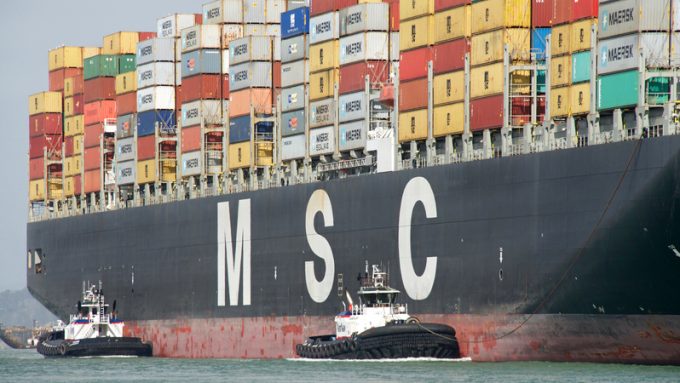 The 2M alliance has announced a further blank sailing this week from Asia to North Europe to use the vessel on another service. 
The last-minute cancellation of the sailing of the 19,224 teu MSC Erica from Shanghai on 21 February is surprising, given that the ship is due at the port at 4am on Sunday in ballast and, according to a local report, is fully booked. 
MSC said the omission of its Griffin-branded service was necessary "to enhance schedule reliability", while Maersk said cancelling its AE55 loop was to "free up this vessel for schedule recovery measures on other services". 
The carrier added: "In light of ongoing schedule reliability considerations, Maersk is implementing measures to improve schedule reliability in its Far East Asia to Europe network."
Both carriers have offered shippers alternative coverage for their bookings on the MSC Erica to Rotterdam, Antwerp and Felixstowe. 
However, The Loadstar has reported that during Maersk's 2020 annual report webinar last week, CEO Soren Skou said "we are full", adding that he expected the carrier's ships to remain full for the duration of the first quarter, at least. 
On 26 January, the 2M partners announced the blanking of three sailings to North Europe over Chinese New Year, necessary, said MSC, "due to the slowdown in demand during CNY" as well as "challenging congestion across the supply chain". Maersk insisted it needed to "improve schedule reliability" in response to "severe port congestion and equipment limitations". 
In general, this was accepted by industry analysts, with, for example, Simon Sundboell, founder of liner database eeSea, noting that schedule reliability was "worse than we've seen in a long time". 
He added: "These blanks are necessary, they're not meant to take out capacity." 
Nevertheless, shippers that have seen their bookings rolled from the blanked sailings have not been so understanding. The Loadstar's shipper sources are suspicious of carrier CNY blanking programmes, given the strength of demand. 
"I think it is just another ploy by the carriers to keep rates at their ridiculous levels," said one contact, while a forwarder suggested the excuses for blanking sailings to improve schedule integrity did not make a lot of sense. 
"I love the way they imply it's for the betterment of the services to simply not operate them," he said. 
Meanwhile, shippers continue to look at establishing more one-off voyages from Asia to North Europe to evacuate the massive backlog of cargo. The sailing of the 2,700 teu Laila from Yantian on 8 February, organised by German-based international purchasing association XSTAFF, in partnership with intra-Asia carrier CULines, is one example. 
XSTAFF said it was now considering offering a second sailing and there are reports that more major forwarders could follow the lead of DSV and Geodis in organising charter solutions to the supply chain bottleneck.