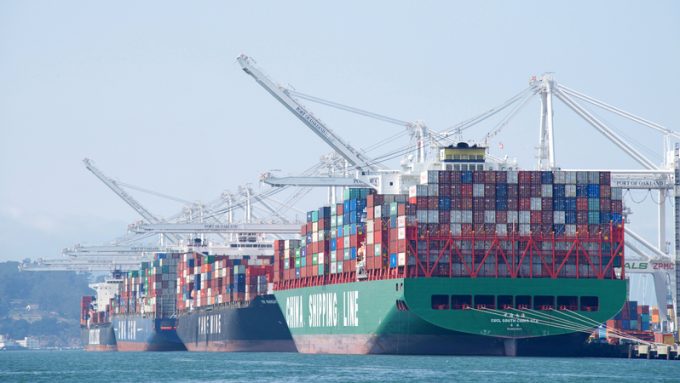 The cellular fleet grew by 4.5% last year, to 24.97m teu, but capacity was cut on some routes as carriers re-deployed as much tonnage as they could on the more lucrative east-west tradelanes.
According to today's Alphaliner data, the transpacific carriers deployed a further 1.3m teu of capacity on the Asia-North America trade last year than in 2020, a huge 31% increase in slots – albeit that about half the extra capacity was required to mitigate the impact of long wait times for ships along the US west coast.
The consultant's analysis found that the other main winner in the capacity upgrade last year was Asia-Europe, which saw an increase of 10% in slots on the route, many of which were provided by ad-hoc carriers deploying small, expensive chartered tonnage, encouraged by sky-high freight rates and ample demand.
According to Alphaliner, the only other above-par tradelanes were Latin America-related services, which saw a 6% increase in capacity.
The biggest losers from the capacity shift were the intra-Asia trades, down 11% across the myriad connecting services, equating to a loss of more than 331,000 slots.
"Several Chinese carriers switched tonnage to the transpacific, while other lines have been chartering small or medium-sized tonnage previously deployed within Asia for ad-hoc sailings to the US," said Alphaliner.
"Only the carriers themselves will know how much cargo they have been able to transfer from dedicated intra-Asian services to the Asian legs of deepsea services," it added.
But, judging by anecdotal feedback to The Loadstar, the intra-Asia market is suffering badly from a supply crunch and the temporary withdrawal of some services.
Meanwhile, capacity for African services connecting Asia, Europe and the US decreased by 6% last year, to 1.68m teu.
Indeed, reports to The Loadstar from brokers suggest operators of African liner services are struggling to hold onto even their traditional geared tonnage, against hugely inflated offers to owners for long-term charters or cash purchase by major ocean carriers.
And Alphaliner said intra-European trade "proved to be another victim of the capacity shifts", with 48,200 teu of slots, or 4.5% of capacity, "disappearing from intra-European services".
In fact, intra-European feeder operators are facing a losing battle to keep hold of their tonnage as, according to one feeder source, owners are "turning the screws".
The containership owners are demanding operators pay daily hire rates "several times higher" than before and, instead of the typical 12-month charter, are insisting on a period hire of at least three years.
"In some ways I don't blame them," said one feeder contact, "they have suffered badly over many years and many owners have gone bankrupt. But now they can pay off the mortgages with just one new fixture."
To illustrate the growing crisis for feeder operators, Alphaliner gave the example of the 2007-built 974 teu feedermax Spica J, which left Rotterdam in ballast in December and is currently loading Chinese export cargo in Taicang.
For many years the vessel was one of the classic 'workhorses' on the intra-European feeder trade, on charter to BG Freight and Unifeeder. Most recently it operated between the main container hubs of Antwerp and Rotterdam and the UK's east coast ports.