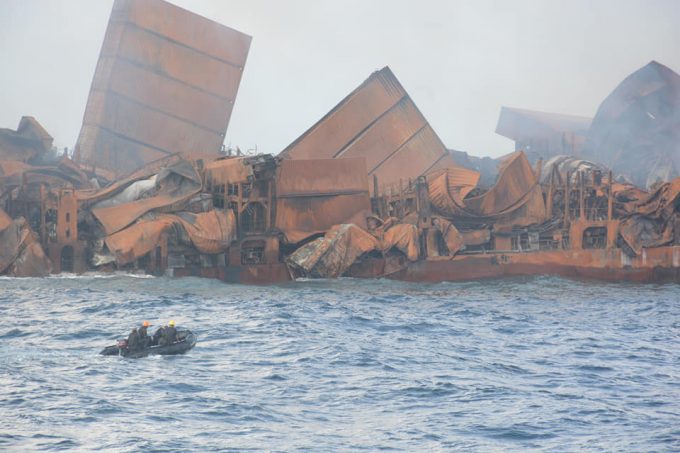 Shanghai Salvage Company (SCC) has been signed to remove the burned-out wreck of the X-Press Pearl.
Cargo on the  box ship caught fire in May off the coast of Sri Lanka, and the blaze spread through the vessel which eventually sank in shallow water. The ship now sits on the seabed with its superstructure above the waterline.
SCC has established a salvage team and has started to assemble the necessary equipment for the work, said vessel-owner X-Press Feeders, adding the plan was to make sure the removal is conducted safely, with no further pollution from the vessel.
"The wreck removal team will be supported by response tugs on a 24-hour watch to deal with debris or forms of pollutants. Regular water sampling will be ongoing, with representatives of ITOPF and Oil Spill Response ready to respond immediately, if required," said the company.
Meanwhile, the search for, and recovery of, lost containers from the vessel, with other debris, in the waters around Sri Lanka during the summer used side-scan sonar equipment, and Resolve Marine is expected to complete this clean-up work "in the near future".
X-Press Feeders added that the Sri Lankan authorities had submitted a second compensation claim, which is now under review by the vessel owner's P&I club.