Cargolux enjoyed net profits after tax in 2018 of $211.2m – its best-ever result, despite only a 3% rise in block hours to 138,179.
Assuming the figures released in 2017 and 2018 are comparable, it meant a profit rise of 73%. 
While many airlines finished 2018 in a negative mode, after the highs of 2017, it was in fact a good year for the carriers, and volumes were far more stable throughout the year, a better outcome for their customers.  
Cargolux said it saw freight tonne km of 8,409 across its network, including Cargolux Italia, while available tonne km grew to 12,375m, and a load factor of 67.9% – down from the previous year's 70%. It said its "high aircraft utilisation rate" remained stable.  
The carrier released different statistics this year than last, making it harder to find comparisons for FTK and volumes. And without insight into cash flows and debt, it is also hard to see how Cargolux is really faring. 
The carrier acknowledged a "global softening in market demand in the second half of 2018, a shorter peak period compared with 2017, uncertainty regarding potential trade wars, geopolitical unrest and Brexit," but added that it "managed to improve on its performance compared with the previous year". 
It said it had seen better "yield quality".  
"Cargolux achieved exceptional financial results in 2018 despite slower economic growth in the second half of the year." said Richard Forson, president and CEO.  
"Strong focus on the management of our capacity and yields, increased demand for specialised shipments, a record year for our charter division and the diversification into offering ACMI solutions all contributed to the performance achieved. Our employees demonstrated once again that hard work, dedication, and expertise are at the heart of our company's success and sustainability."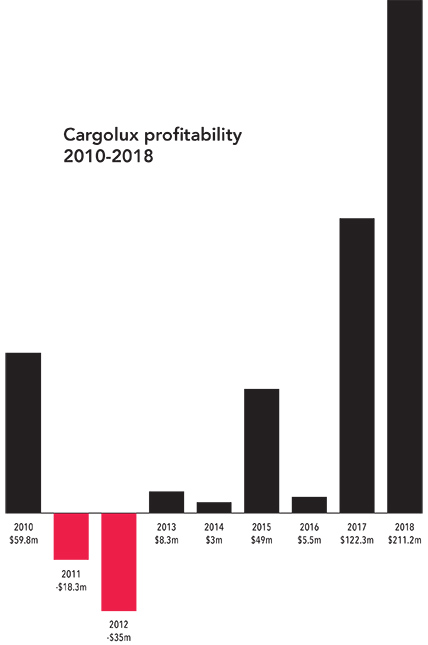 The carrier said one of the "main focuses was to undertake a complete IT overhaul to streamline processes, synergise teams internally, and enhance customer experience".  
It added: "This project aligns with the company's lean and green philosophy and its flexible and adaptable business model. Complemented by the ongoing digitalisation initiatives, this will enable Cargolux to stay at the forefront of the industry and keep providing quality services in a lean and efficient manner." 
It also added, on corporate social responsibility, its focus on reducing its carbon footprint and fuel-saving programmes, which last year saw 6,270 tonnes of fuel saved and 16,750 tonnes fewer CO2 emissions, despite company growth.