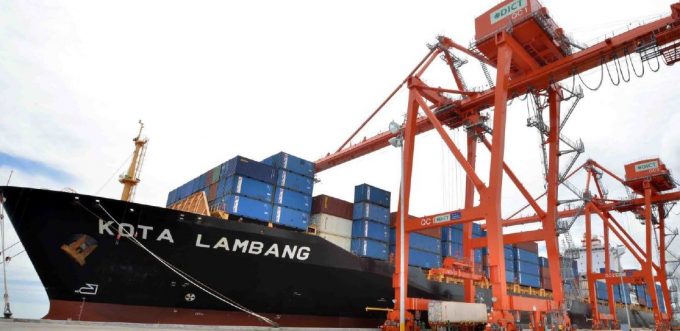 Pacific International Lines (PIL) today ordered four 8,000 teu containerships from Yangzijiang Shipbuilding, as the Singapore-based regional carrier continues to improve its financial health.
In March, PIL ordered newbuildings for the first time in seven years, four 14,000 teu ships from Jiangnan Shipyard. Previousl its last newbuilding commission was for eight 12,000 teu ships from Yangzijiang in 2015, built in 2018.
PIL said the 8,000 teu ships, to be delivered in 2025, will be dual-fuelled, LNG and diesel, and equipped with an ammonia intermediate ready fuel tank.
The newbuilding price was undisclosed, but similar ships commissioned recently have cost about $135m each.
Lars Kastrup, who became PIL's sole CEO after Gan Chee Yen stepped down as co-CEO on 1 July, said: "We have decided to place an order for an additional four 8,000 teu LNG dual-fuel vessels for two key reasons. Firstly, this is part of our ongoing efforts to optimise and renew our assets for greater operational efficiency. The new vessels will complement our existing fleet and support us in the enhancement of our connectivity to better meet the needs of our customers worldwide.
"Secondly, we have identified LNG as a commercially viable transition fuel solution, and the new vessels will contribute towards achieving our decarbonisation goal of attaining net zero carbon emissions by 2050."
In March last year, PIL, which suffered consecutive net losses from 2018 to 2020, was given a lifeline when Heliconia Capital, a unit of the Singapore government's investment company, Temasek Holdings, acquired a 75% stake with a $600m investment, including loans.
PIL's restructuring also involved converting $45m of bonds into perpetual securities, while cash payments to the bond holders were to be accrued for five years before being released. However, by the end of last year, PIL had seen its finances turn around and made early repayment of sums owing to the bond holders.
There has been growing interest in newbuildings in the 7,000-8,000teu range, with more than 90 on order. Liner operators are looking to deploy such tonnage to Far East-Persian Gulf routes, replacing 4,000-5,000 teu incumbents.
In 2020, when container shipping rebounded on the back of Covid-19-related logistical bottlenecks, PIL narrowed its net loss to $44.73m, compared with the net loss of $850.08m in 2019.